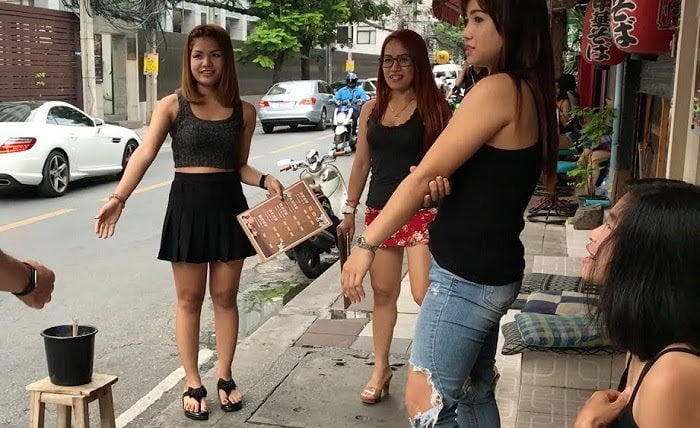 Best Erotic Massages In Koh Samui
Koh Samui has its fair amount of massage parlors, and many offer happy endings. You just need to look for girls sitting outside the shop dress in civilian clothes.
If that isn't enough to convince you, when they shout boom boom or happy massage, it's a reaffirmation of the extra service.
Erotic massage shops are only one of the many venues where you can find girls for sex in Koh Samui… And to be honest, they aren't either the cheapest or the best way to get laid.
Anyway, I'm going to list all types of erotic massages in Koh Samui, plus an alternative to a cheap massage directly in your room.
Let's start with…
Body To Body Massage
If you want a body to body massage, visit the ex Kimono in Koh Samui now rebranded Supaporn Massage Samui.
The price starts at 1.200 baht with a therapist for 60 minutes of relaxation. The top package set you back 3.950 baht for 90 minutes with two girls.
Once you arrive the manager gives you a menu and the possibility to pick a therapist. The message consists of Nuru gel and body to body massage until the climax.
And to be clear, you don't get a full service. But you can touch, suck, lick, finger but no sex.
Soapy Massage
The only place that offers a soapy massage in Koh Samui is The Resort Entertainment. It's located a few kilometers away from Chaweng, so you must have transportation.
This place is open 24/7, but you better visit after 5 pm to find the most girls. Prices start at 3.500 baht for one-hour full service up to 5.500 baht for a top spinner.
The service is the same as you get in a soapy massage in Pattaya but at a higher price. The therapist will bath you, give a body to body massage on a mattress and full sex.
Happy Ending Massage
There are plenty of massage shops that offer happy ending in Koh Samui. To name them all is impossible so I'm going for their locations:
Chaweng Beach – Look for Solo Bar along Beach Road, next there is a small street with several parlors. On the North, there is another street with many parlors, ask for Nida Massage.
Lamai – It's a small village with several dirty massage parlors. Just walk around McDonald's.
The standard price is 1.000 baht for massage and happy ending. If you want full sex had an extra 500 baht.
Cheap Private Massage In Your Room
If you can't bother to walk around to find an erotic massage, you can get a dirty massage directly to your room.
Not only it's private and safe, but it cost way less than getting a massage with extras in a parlor. The reason you deal directly with the girls.
There is nothing more exciting to have private time with a horny lady in your room…
You can contact plenty of horny and willing girls on a dating site. Just send a couple of messages asking the girls to visit your room for a friendly massage.
I found the girls freelancing on dating sites to be enthusiastic and eager to please.
RELATED ARTICLES