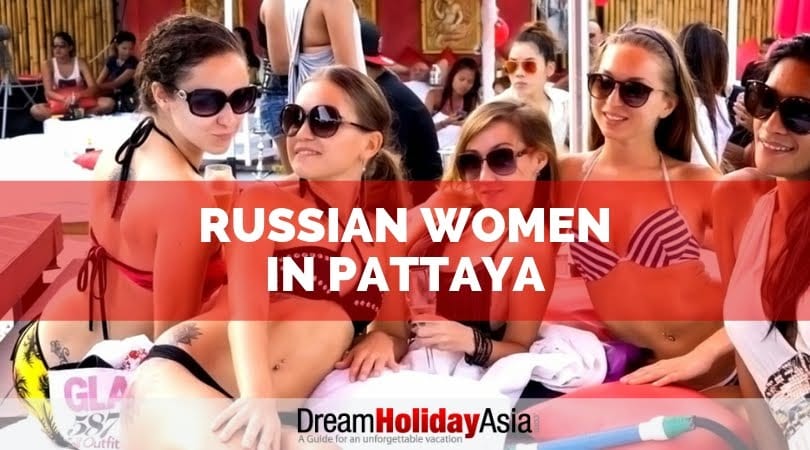 Not Only Thai Girls – Meet Russian Women In Pattaya
There has been quite a big influx of Russian girls in Pattaya in the last couple of years. You can meet a good number of Russian girls hot for action.
And they aren't just the ones touring and one with normal jobs alone – there are also Russian bar girls and freelancers here.
You might want to hook up with a Russian or Western woman instead of a classic Thai girl, just because you don't have an attraction for Asian women… Or during a long vacation, eating every day Thai p…. is too much.
So, where exactly can you meet Russian girls in Pattaya?
Russian Prostitute & Hookers
There aren't only Russian hanging out at night to get some cash, but other nationalities like ex-soviet union countries and African women.
The street is walked by Kazakhstan, Uzbekistan, Turkmenistan, basically the ex-soviet union countries. Instead, better looking Russian women patrol the nightclubs in Pattaya.
So, let's start with…
Beach Road
Beach road is walking distance from the most known red light district in Pattaya: Walking Street.
Here, you can find an international flare of hookers like Russian and Africans women, and of course Thai girls and ladyboys.
The Russian women are from Kazakhstan, Uzbekistan and Turkmenistan.
They aren't the most attractive, actually, they give me a feeling of desperation. Just the way they dress is a turn off for me.
But if you want to have sex with a Western woman on the "cheap", beach road is the best place to visit.
The price for Russians girls on beach road start at 2.000 baht for a short time, which is double the price of a Thai girl
Walking Street
Now that we've seen the lower end of the Russian women in Pattaya, let's now have a look at the high end.
Here, we are definitely talking about Walking Street. It is the premium end of the Russian girl revolution here in Pattaya.
When you are on or around Walking Street, the best places to find high-end Russian girls is probably  Galaxy club and Mouline Rouge Club.
They are gentleman clubs where you can have a drink with the girls and if you like one, go for sex.
For a pole dance, you will have to part with 1000 Baht while for a private dance; you are likely to take a hit of up to 7000 Baht.
Those are just for having exotic dances. If you want to have some private time, then you will have to part with 4000 Baht for the bar fine and 7000 for the private time.
As you can see, this is by no means cheap and that's why it is considered the high end.
Discos
I know nightclub is where most singles go to when they want to hook up with Pattaya prostitutes.
But if you are looking for a Russian hooker in Pattaya, you simply can't just walk in any disco and expect to find them.
They can be found looking for customers in clubs like Lucifer and Mixx all on Walking Street.
Be sure you can differentiate a freelancer from a normal girl, you don't want to be slapped in the face, right?
The good thing about freelancers is they don't work for anyone. You can easily just meet one and negotiate the price with her and off you go.
There's no need to buy expensive lady drinks or pay a bar fine to the bar.
But be aware, these girls know their worth as they are also well aware that the demand for them is high and supply is limited.
You can expect to pay around 3.000-5.000 baht depending on your negotiation skills.
Meet Singles in Vacation
Pattaya is one of the most popular beach destinations for Russians, the other is Phuket.
You can meet Russian singles in clubs, beaches, shopping malls and in sky bars.
If you know how to play the game, you can get laid the same day you meet her. After all, they are here on holiday and they want to get drunk, have fun and get laid.
Sound like you?
The best places are:
Jomtien Beach
Russian women love the beach, it's logical if you think in Russia is almost always winter.
These girls aren't hookers, but touring girls who are there either with friends or their partners for a vacation.
Now, the best bet is to hook up with a bunch of Russian girls by themselves, but that isn't always possible.
So, you can try your luck with married women who are bored to have a partner always drunk.
Yes, Russian men are notorious for preferring to drink instead of looking after their woman.
Those women are craving for some quality sex, and if you can provide it, they are happy to jump the boat.
If you see a Russian woman looking at you while the husband is sleeping or passed away, just say "hi" and give her your phone number.
You might be surprised how many will call you for a quicky.
Na Jomtien Beach
After Jomtien beach, there is Na Jomtien Beach.
There are families and couples that rent nearby condos.
You can either pick up Russian milfs that are looking for sex or their young horny daughters.
Sky Bar
On top Hilton hotel, there is an amazing sky bar called Horizon.
It's a great place to take a date for sunset or scout out Russian girls there having a drink and looking to get laid.
After 8 pm is the best time, usually there are a few girls alone or with friends, some are working girls, others are single women hot for action.
Not all the Russian girls in Pattaya are fluent in speaking English, so keep the conversation basic.
Russians Resident in Pattaya
I have seen hordes of them at the Beach Club in The Pullman on Wongamat Beach… Or you can befriend a Russian estate agent (any profession really) and ask them… Or go to Russian Church in Wongamat to see where they end up after church.
There is a club with a good number of Russian girls in Pattaya: Mixx.
Late on weekends, you can opt to have a look and see if you have any fortune.
This is because, this is when the Russian girls who are actually in real jobs like in the real estate, take time to unwind.
When approaching a Russian girl in a club, make sure that she's not there with another man. These girls aren't working girls, so they may be having real relationships.
Although many Russian girls do seem a little "stuck up" or just "non-sociable".
The ones that I have actually had a chance to talk with in the past are pretty cool women and besides the obvious good looks, I love their sexy accents too.
I hope I have conclusively given you a rundown of the places where you can find Russian girls in Pattaya.
RELATED ARTICLES