How To Plan A Thailand Sex Vacation
It is hard to plan a normal holiday, let's alone to plan a sex vacation to Thailand.
Besides the usual things like booking a flight, find accommodation and get a visa, you need to know where to meet Thai girls for sex… And don't expect to find sex resorts to provide you with ladies, such things don't exist here.
The excellent news is Thailand is one of the easiest countries to get laid in Asia, and in this article, I'm going to share my exact system to plan a sex holiday in Thailand.
That way you don't need to worry about the details, but enjoy your vacation with beautiful and sexy Thai women 24/7.
Set Expectations For Your Trip
The first step is to write down your trip goal. Maybe you want to have a holiday girlfriend in Thailand … Or have sex with two girls… Or try out a ladyboy.
It's critical to write down your goals because you are going to take action only if you write them.
Travelers without a clear plan, drift through their sex trip aimlessly, wondering why their adult holiday lacks purpose and excitement.
You need to know what you really want and focus on it.  The benefits of having a clear travel goal are:
Reduce uncertainty;
Increase understanding;
Give a positive feeling of self-achievement;
Improve purpose and excitement.
Now that you know exactly what you want from your sex vacation, it's time to make a holiday plan to achieve your goals.
Create A Budget
It is important to have a clear budget to ensure an evenly spending during your sex vacation and you don't go into debts this holiday season.
Keep the plan simple, smart, and flexible.
1) First, write down the total amount available to fund your holiday.
2) Divide the money into different broad categories:
– Flight expenses
– Accommodation
– Food & restaurants
– Drinking & nightlife expenses
– Sex
– Attraction
– Other minor expenses
Allocate more money to the categories that are most important to you.
Below, an example of a trip plan:
PATTAYA TRIP
Total Duration: 3 days
Total budget US$ 730
– Flight expenses = US$150
– Accommodation = US$120
– Food & restaurants = US$30
– Drinking & nightlife Expenses = US$150
– Sex = US$230
– Other minor expenses = US$50
You have noticed that most of the budget is been spent on sex, that's because I travel to get laid with beautiful girls.
So, focus your spending on things that matter the most to you. Generally, Thai girl prices are cheap if you stay away from the red-light districts.
Pick A Sex Tourism Destination
Defining where you wish to spend your sex vacation is vital. Some destinations have more girls for fun and are used to hook up with foreign men than other places.
In Thailand, there are many popular sex tourism destinations which suit all type of tastes.
Sex In The City
You might choose a city in Thailand because of the many universities and work opportunities. That translates into a huge amount of available students and high-value girls in their 20s: the more girls, the more opportunities for you to get laid.
Of course, there are plenty of red-light districts in the city to caterer mostly to businessmen:
The best cities that welcome foreign single men are Bangkok and Chiang Mai.
Sun, Sex & Sea
For all the beach holidaymakers, Thailand has a lot of beach tourist destinations that provide excellent erotic vacations. The best spots are Pattaya, Koh Samui, and Hua Hin.
Pattaya is a whore town with the biggest red-light district in Thailand. Not only there are an incredible amount of girls, but they are cheap and horny.
Koh Samui is an island similar to Pattaya in terms of beaches, but the red light areas are much more expensive. Not a budget-friendly destination.
If you are tight with money and you value a quiet place, Hua Hin is an underrated sex tourist destination in Thailand.
Get In Contact With The Girls
The competition is fierce in Thailand to get the attention of the hottest girls. Single men traveling to Thailand for the first time think that it is easy to hook up with Thai hotties.
It is if you are content to overpay for dirty prostitutes. But if you plan to enjoy the company of a beautiful and caring Thai lady, the red-light districts aren't the right place to visit.
There are plenty of horny girls interested in foreign men using these apps and sites.
Create a profile with a few of your best photos and get busy to send messages. I've found Thai girls online to be more open-minded and eager to hookup.
Don't get lost in a long conversation, just ask them out: "Hey, my name is Rocco, I like your profile. Are you free next week to meet?" Simple as that.
Now, if you are a senior man and want to get laid with a much younger girl, traditional dating sites will not work for you.
Let's be real, Thai ladies aren't as desperate as Filipinas, they have plenty of choices. Not to be mean, but why they should date and have sex with a much older man when they can meet a younger one?
You need to offer benefits to a young and hot lady to stay with you. Money, gifts, trips abroad, mentorship, have a nice meal, etc.
There are plenty of Thai girls on arrangement sites, you need only to find the right sugar baby.
Imagine being with a young and horny Thai girl while enjoying the sea and sun…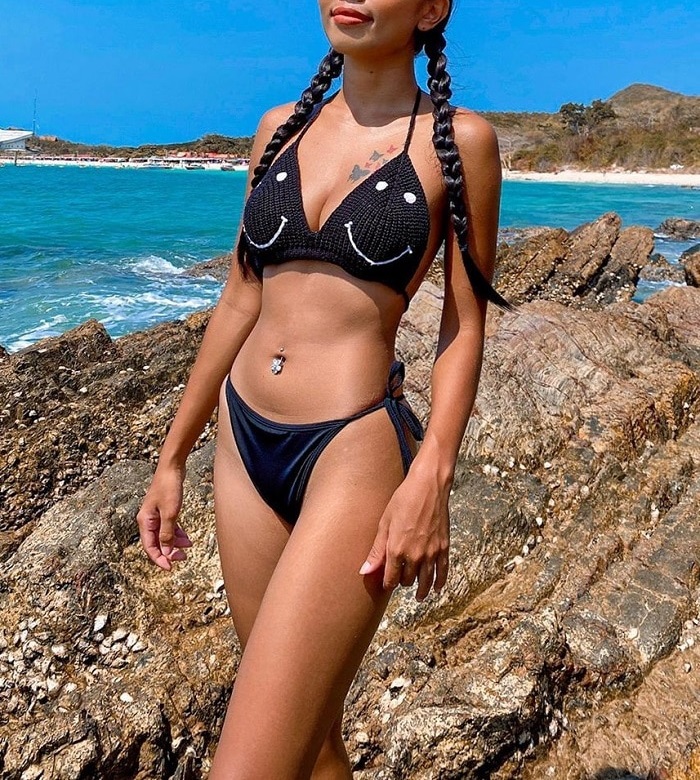 It's definitely the best way to feel young again. The best part is you can show off to your friends and colleague your conquest. They'll envy you.
Book A Girl Friendly Accommodation
There are many types of accommodations in Thailand, from the normal hotel or resort to the sex hotels that caterer to horny single men.
The essential amenities during an erotic vacation in Thailand are:
– Bedroom with mirrors. The more mirrors, the better. Next to the bed or on the ceiling is a must.
– Find out the closing time to access the pool. It's awesome to have some water games late at night.
– Bathroom size. Do they have Jacuzzi? Jacuzzi is great to have a threesome.
The last but not the least; make sure the hotel is girl friendly
Pack Your Luggage 
Packing for a sex vacation is as simple as any other adventure. The only few notes of cautions: sex toys are illegal in Thailand. So leave them at home and avoid trouble with airport customs.
If you want to get sex toys, buy them from street vendors once in Thailand.
Always bring your type of condoms that you usually use in your home country. You don't want to go for a holiday and come back with a gift that keeps on giving.
Thailand mostly sells Durex and other locally manufactured condoms. They are crap and expensive. The only brand I recommend is "Akamoto" from Japan. Why? Because they are very thin (great pleasure) and extremely safe (rarely they crack).
Go on your trip and have fun! Head to the airport, board your plane (don't forget your passport!), and enjoy the fruits of your labor.
Now that you have a written plan, your sex vacation in Thailand is going to be a success.