Chiang Mai Sex Guide For Single Men
If you're craving for a sex holiday in Chiang Mai and want to know the best places where to find sexy girls hot for action, this sex guide has all the info you need.
You should enjoy your trip to Chiang Mai, instead of worrying about where to go, what do and most importantly how to do it.
I'm going to cover all the things you need to know to experience the ultimate Chiang Mai sex vacation.
This guide is going to focus on the P4P scene (Pay for Play). If you prefer to meet and date everyday Thai girls, the one working regular jobs in hotels, restaurants or shops, then get on a popular Thai dating site instead.
This Chiang Mai Sex Guide was last updated on 02 June 2019
***
Contents
Click a link to skip to that section. Don't skip any sections!
***
The Ultimate Men's Travel Guide to Chiang Mai
General information about Chiang Mai for first-time travelers
Typical Costs
An overview of general prices in Chiang Mai
Safety Tips & Trick
A few pitfalls that I've experienced and you should avoid
Date Chiang Mai Women
Here's the information you need to meet local Chiang Mai Girls
Chiang Mai Nightlife
The best nightclubs and bars in Chiang Mai
Things to Do in Chiang Mai for Adults
Places to visit and activities to do in the company of a local girl
–
The Ultimate Man's Travel Guide To Chiang Mai
Chiang Mai is the largest city in the northern region and the second in Thailand.
It is the most visited city in the region and has recently enjoyed a tourism boom with backpackers and casual tourists alike, flocking to see the city and of course, to meet the local girls.
In fact, Chiang Mai is a place where traditional culture meets a vibrant nightlife scene.
Regarding culture, this Thai city offers:
A great scenery consisting of beautiful mountains and hills;
Historic Buddhist temples.
When comes to nightlife, there are so many places and cool things to do, that can't be described in short but you'll find out more while reading this guide.
Chiang Mai has enjoyed a recent boom in digital nomads living in the city due to the very low cost of living and the laid-back atmosphere.
However, the main reason Chiang Mai is attracting a young crowd has to do with the many trendy bars and clubs where you can drink the night away while picking up HOT local girls.
There are foreign-oriented bars with Thai girls working as waitresses and hostess, ready to spend a night with you while serving a cold beer.
Also, the city is the university and financial hub of Northern Thailand and girls from all areas of the region flock to the city to study and find work.
In fact, you can find quality Thai girls on dating sites who are open to meet foreigners for casual dating or serious relationships.
This means that you are able to find a whole mixture of hot Northern Thai girls within close proximity. It's like a giant "girlie supermarket" where you can hand pick the finest products.
Just imagine walking around town and see young girls all over the place… It's a single man's paradise.
What I love about Chiang Mai is the size. It's relatively small compared to Bangkok with most of the activities based around the city walls.
You will find most of the cultural tourist's spots within the 'Old City', where you can easily walk through the vicinity.
When the night falls, the town turns from a historical center to a lively party city. There are nightclubs filled with all the girls you can dream of, and night markets where you can enjoy cheap local food.
Everything is less commercialized, more authentic and so much more fun than other touristic Thai cities like Pattaya and Phuket.
So, if you're looking for young Thai girls with genuine intentions and awesome nightlife, Chiang Mai is the place for you.
TIP – If you want to meet Indonesian women hot for action right away, I recommend using this site. It's easy and busy with sexy girls!
When To Visit Chiang Mai
Chiang Mai has a slightly different climate than the rest of Thailand being to the extreme North: it's cooler and less tropical.
The seasons can be split into three; ideal, peak and rainy.
– Rainy Season; In most South East Asian countries, the monsoon weather takes over the early part of June to around Mid October.
Heavy rainfall and chances of storms make it inadvisable to visit this time of year which makes the city all too quiet.
– Peak Season; The peak season starts from late March to late May.
Of course, the Songkran festival is held on April which attracts tourists from all over the world to join in on the huge water fight while making the Chiang Mai girls – wet.
Although predominantly sunny, the temperatures in the day averages at around 38 degrees C which can make it unbearable for Western tourists, especially with its high humidity and pollution levels. Prices can also increase due to the number of tourists in the city.
– Ideal Season; The ideal season can be a mix of the rainy and peak season.
Sure, there can be the occasional rainfall however this can bring the temperature down to a more comfortable level.
This is the time where the nightlife starts to pick up and the clubs are full of girls. This is from November to late February.
What About Girls In Chiang Mai?
Chiang Mai girls are traditional and less in your face being shy. Also, they can't speak much English beside bar girls and university students, so talking to them first hand can be a bit difficult.
The Northern type of lifestyle is evident with the girls as they can only be described as relaxed and friendly but still conservative when comes to an intimate relationship.
They are family orientated and focus on their studies to make their parents proud. Their kind of upbringing also makes them very down to earth and less materialistic than their counterparts down to Bangkok.
Regarding appearance, what stands out is their lighter skin. They look more like Chinese girls than original Thais.
So, to reassume, Chiang Mai girls are excellent girlfriend and wife material. They are love caring while down to hearth making them excellent wives and mothers.
However, finding quality Chiang Mai girls take some effort and you must look into the right places.
The best place to pick up this type of girls in the university, but social pressure and communication barrier can make the task daunting.
If you can't speak Thai, the best option is to become a member of a dating site that allows you to translate messages while targetting Thai girls that are into foreign men.
In this way, you can easily chat with Chiang Mai girls without face to face pressure, knowing each other and decide to meet when you're ready.
I consider Chiang Mai a destination for any men seeking romance and love with young and attractive Thai girls. The reason is the many universities in town that attracts quality girls from all over the region.
If that is what you're looking for, Chiang Mai is the place for you!
There is also a small community of swinger online in Chiang Mai with couples and single Thai women looking for fun.
–
Typical Costs in Chiang Mai
If this is your first time traveling to Chiang Mai, I bet you are wondering how much everything costs. Below is a breakdown summary of what to expect to pay while in Chiang Mai:
• Chiang Mai Accommodation's Price
The cost of a decent room in Chiang Mai start at around 900 baht per night, but even the nicest hotels like De Lanna Hotel or Lanna Tree Boutique Hotel would set you back only 2.500-3.500 baht.
In average, a buffet breakfast in the hotel cost around 250 baht that usually is included in the room price. Consider this extra cost if you decide to bring a Thai girl with you.
Personally, I prefer having breakfast in the small shops around Chiang Mai because is cheaper (below 100 baht) and the girls prefer it to the hotel buffet.
Make sure that the hotel is girl friendly. In other words, you don't get charged extra for bringing back girls to your room. Not only is embarrassing but it can cost up to 1.000 baht per girl.
I didn't pay any extra during my stay in Chiang Mai…
• Food and Drinks Prices
Chiang Mai has some of the best food Thailand has to offer. These cuisine doesn't damage the wallet either with plenty of options.
Street food can range from 30 baht to 80 Baht per dish. Expect to double that amount when sitting in a standard Thai restaurant which can reach up to 600 Baht for two.
When dining in a higher class establishment usually serving Western food, costs can surmount to 1000 baht per person and higher, should you order alcoholic drinks.
• Cost of Transportation in Chiang Mai

From Chiang Mai Airport
Chiang Mai airport is located a short distance from the city center. Songthaew and tuk-tuks are readily available to provide taxi services outside the terminal building and the fastest way to reach the town.
Expect to pay 160 baht for a taxi to most destinations in the city, while the return trip to the airport costs around 100 baht.
Check with your hotel to see if they provide this service, most arrange free transfer to and from the airport.
Inside Chiang Mai
There are lots of ways to get around Chiang Mai; Perhaps the most common is by songthaew (a shared transport pick up trucks) with fares around 30 baht.
Taxi apps such as grab are also available and doubling the cost of a songthaew depending on where you want to go.
Tuk Tuks litter the city which includes an authentic Thailand experience. Expect to pay up to 100 baht per trip.
Lastly, there are buses available which start at the cost of a very affordable 20 baht.
• Cost For Entertainments
An unforgettable holiday includes girls, drinks and fun. Here an overview of general entertainment's prices, but remember to bargain as the initial price isn't always the best price…
1. Go Go Girlie Bars Prices in Chiang Mai
Go Go bars are popular in Thailand offering dancers you can take away with you for price known as bar fine.
Bar fines in Chiang Mai Go Go bars range from 600 baht to 700 baht. Drinks cost between 60 to 160 baht.
Lady drinks can range from 120 baht to 200 baht depending on the establishment. The ladies prefer the tequila shots which cost around 135 baht and can be sucked up in a second.
Most girls will ask 2.000 baht for short time, but the standard rate is between 1.000 to 1.500 baht. The cost of all night is highly negotiable starting at 2.000 baht.
Go Go girls shot for the highest price as a way to test you and see how far they can go in taking your money. Don't let them play around, you're the master and you decide her pay.
2. Beer Girlie Bars Prices in Chiang Mai
There are many beer bars in Chiang Mai but most are located in Loi Kroh Road, inside the Chiang Mai Entertainment Complex where I've counted 25 beer bars.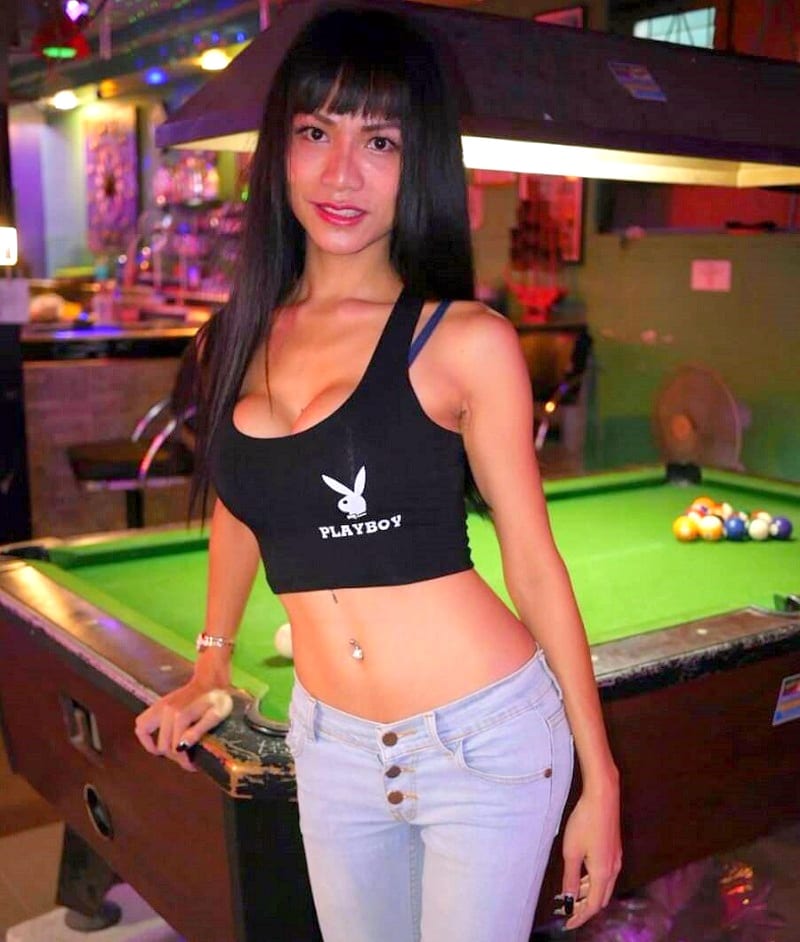 Everything is slightly cheaper than Go Go bars, with drinks around 70-160 baht, bar fine at 500 baht and lady drinks on 130-150 baht range.
The girls ask for a short time about 2000 Baht, but personally, I offer 1.000 baht for a standard girl and max 1.500 baht for a hot and young spinner. For long time, 2.000+ baht.
3. Night Clubs Prices in Chiang Mai
Chiang Mai has a good variety of nightclubs where you can party while picking up Thai women but also foreign girls.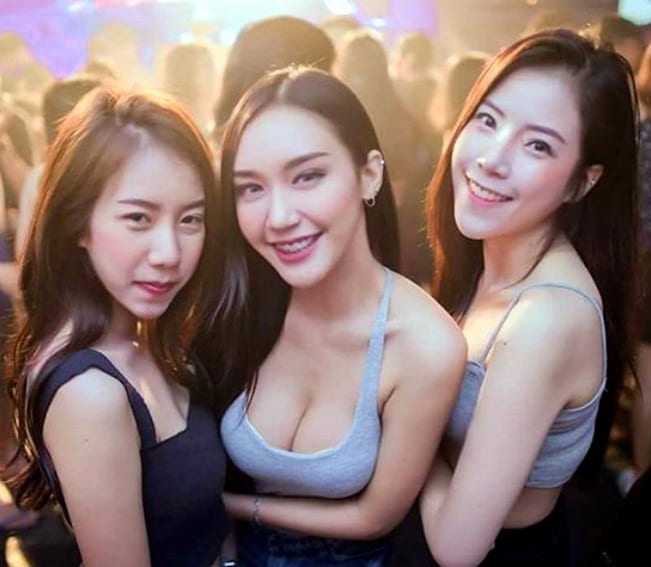 I discuss more in details about the best nightclubs in Chiang Mai's Nightlife section.
The clubs located in Nimman – Soi 7 & 9 are mostly oriented to Thai people. The entrance is free, the booze is cheap all below 100 baht while most of the girls are genuine and not freelancing.
Always in Nimman, outside Soi 7 & 9 there are larger clubs with better bands but an entrance fee of 200 baht including a drink. Also, the beverage is more expensive.
In the old city, the clubs have an international crowd where you can get Thai freelancers for 1.000 – 1.500 baht all night.
You can take advantage of happy hours that can greatly reduce the cost of the drinks and offer a bundle pack of drinks
4. Chiang Mai Freelancers Prices
Freelancers are cheaper than picking girls from the go go and beer bars.
Depending on how hot they are, the standard price ranges from 1.000 – 1.500 baht all night.
The hotter and younger they are, the higher the price, but don't forget to negotiate.
Read More: How Much To Pay For Chiang Mai Girls
5. "Happy" Massage Parlors Prices
Chiang Mai has a wide selection of massage shops that might offer extras, erotic massage SPA and soapy parlors.
Most "happy" ending massage shops are located in Loi Kroh Road but the girls are average looking but offer lower prices:
A handjob starts at 400 baht;
Blowjobs at 700 baht
Full package costing up to 1.000 baht.
However, not all the massage girls are up for happy endings, so explain to them what are your expectation before going for the massage room.
Erotic massage SPAs are more expensive but the girls are sexy, more than girls in Loi Kroh Road.
The two most popular places are Absolute Paradise Spa and Raspberry Spa offering body to body massage plus and handjob for 1.500 baht.
For any extras, you need to negotiate the price with the massage girl directly.
If you are looking for all-inclusive service like soap bath, slippery body to body massage and dirty fun with a busty North Thailand girl – a soapy parlor is the place for you.
The girls are divided into quality groups with price ranging from 1.000 baht to 2.500 baht.
6. "Regular" Quality Girls Prices In Chiang Mai
Any girl that you see working in shops, hotels and restaurants might be interested in dating a foreigner, especially in touristic areas.
Regular girls prices don't really exist. Just like in real life, if you find the right person, you will not have to pay them.
The best thing with these meetups is that like a normal date, you would not need to pay for sex, just romance them.
You can stroll through the malls, visit temples or by eating in a restaurant and you can meet a beautiful local girl that you would most likely get on with.
Also, you can meet Chiang Mai girls interested in foreign men on dating sites.
Whether you meet them in real life or online, keep in mind that Western customs can be very different to Thai traditions and the best way to make this successful is that for both to meet in the middle.
There are also girls that are still in education that would like to be 'sponsored'. This means that they will be your girlfriend as long as you would financially help them through university.
The price for a sponsored girls starts at 10.000 baht up to 40.000 baht. Typically, you get into such arrangement ent only if you're looking for a long-term relationship without attachment.
7. Ladyboys Prices In Chiang Mai
Thailand is probably the most popular country for ladyboys in the world.
Due to Chiang Mai being one of the most visited cities in Thailand, there has been an increased demand over the years from foreigners that want ladyboys.
Fortunately, the cost for ladyboy's companionship isn't increased and is almost identical to the girl's prices:
• Ladyboys in Beer Bar's Price: 500 baht bar fine and 1.500 baht for short time. There are 2 popular ladyboy's bars on Loi Kroh Road.
• Ladyboys Freelancer's Price: 1.000 – 2.000 bath. All over town.
• Ladyboys in Massage Shop's Price: 500 Baht for a handjob and 700-800 Baht for a blow job. The are ladyboys working in massage shops on Loi Kroh Road.
• Ladyboys on Dating Sites: Free if a ladyboy looking for a boyfriend or 1.000 baht if a freelancer ladyboys. Many ladyboys are using Thai Friendly.
In conclusion, you're going to spend on average 1,500 baht for accommodation, 600 baht for foods and drinks, 300 baht for transportation and 2,500 baht for entertainment. All these figures add up to 4.900 baht per day.
This is only an average, you can spend much more by upgrading accommodation or much less by meeting with girls met on dating sites for free instead of working girls.
To get a better idea about Thai girl's price and their value, see the graphic below:
–
Safety Tips & Tricks
• Thai ID Cards; Always check that the person you will have sex with is over 18. Check their ID cards by subtracting 543 from the current Thai year.
• Bargain Hard; As previously mentioned, always bargain. The locals will take advantage of you by overcharge you whether from food to sex.
• Agree on the Price; Make sure you agree on a price before proceeding to do anything.
• Keep Your Valuables Safe; Make sure that you have eyes on your belongings at all times. Whether you are out partying or in your hotel room, always keep your valuables safe.
• Ladyboys; Unfortunately, ladyboys have a bad reputation for stealing so always keep your wits.
• Monitor Your Bills; Make sure that you double check the bills and receipts to ensure that you are only paying for the items you have asked for. You will sometimes find a rogue bill inserted to your tab when you are out drinking, especially in a Go Go bars.

• Wrap Up; This one is very obvious, always use protection. The girls you encounter may have all sorts of STD's due to the nature of their work and the unprotected sex withThai boyfriends. Protect your health at all times.
• Moderate Drinking; I don't want to sound like your mother or a priest, but in my girly experiences around Asia, I had better times when sober than drunk.
–
DATE CHIANG MAI WOMEN
The girls in Chiang Mai are the friendliest in Thailand. They are a pleasure to hang out with, even if you don't have sex in mind.
They are down to earth, love caring and respectful while ensuring to please you.
However, it's difficult to find a Chiang Mai woman that can speak perfect English so bear that in mind. Having said that, I don't mean they don't speak English at all, only that their English is basic so you need to be patient when communicating.
Their lack of English does not mean they are not smart either, most young girls in Chiang Mai are studying at the university.
For some reason, it seems that Thai universities aren't focused on foreign languages.
The girls can be very shy so you must approach them with caution and make sure not being too outspoken.
Once you get to know them, they are some of the best Thai girls to be around, as they know how to understand and please a man.
Due to their conservative nature, once they think that you are boyfriend material, beware. They may ask you to visit their parents, meaning they are expecting to get married to you.
Although the practice is harmless, she might start to pressure you to the next logical step in her mind: marriage. These are the types of girls that want to have a family and marry you not just for your money.
There are different ways of meeting beautiful local girls, which depends on what you really want…
How To Meet Local Girls In Chiang Mai
To meet quality Chiang Mai girls, these are your options:
• Online Dating
The easiest and fastest way to connect with some local beauty.
Most girls in Thailand have a smartphone so they can have access to dating apps. The good thing about dating online is the convenience (from the comfort of your sofa) and a wide selection of girls only "one click" away.
Meeting Chiang Mai girls online is less intimidating than chasing them in malls or around Chiang Mai's streets.
Just imagine how she feels by getting approached by a foreign man in a public area; In one world I would say; "Intimidating".
Also, it's better to set updates before you get into town. If you arrive with no contacts, then you are putting yourself in a stressful situation.
Most quality Chiang Mai girls are busy either studying or working long hours, so don't expect to meet them in nightclubs or bars.
Most girls you see around town are either working in low paying jobs as a waitress or receptionist.
So, the only way to meet quality local girls is online.
In my experience, building a relationship of trust and affection with girls prior to a trip is the best way to achieve the ULTIMATE HOLIDAY.
If you want to meet online girls in Chiang Mai, I recommend using: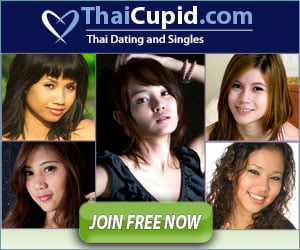 – Thai Cupid – It is the biggest dating site in Thailand with thousands of women looking for romance, relationship and why not, a night stand.
Hundreds of girls ready to chat day and night. Talk with multiple girls at the same time. You know, Thai women write very slow.
By signing up with Thai Cupid you will access hundreds of Chiang Mai girls and thousands of Thai women.
You can meet sweet country side women looking for love, or some slut in the major tourist destinations for one night stand.

Make sure to complete your profile with some good picture of you (no naked) and a clear description of what you are looking for, what you offer and only talk briefly about yourself.
Avoid pretending to be a romantic man when in reality you love to get tied up and pissed in the face. Be yourself!
– 
Thai Friendly – Not as many women as in Thai Cupid dating website but definitely enough to get you started.
I have found some good girls here. However, I always watch out from women asking you for money.
Good girls don't do that, and only fool men would wire money to a girl never met before.
I hear horror stories all the time from travelers being cheated by women online. I never had an issue with Thai Friendly. They do a good job by keeping their users in check, trying to remove scammers and fake accounts.
You might find interesting my Thai friendly review.
The second option to meet quality Chiang Mai women is to…
• Walk Around Chiang Mai
Walking around Maya Lifestyle mall or through Promenada and you'll find girls just getting on with their day to day lives.
Have some cheap local food or shop in the night bazaar and you may bump into a countryside Thai girl.
The place is relatively smaller compared to Bangkok so everyone will most likely be located within the city walls.
Just remember to speak slowly and have a big smile on your face. If the girl looks not interested in talking to you, just move on to the next one.
If all else fails, the next option might be for you…
• Visit Nightclubs and Discos
Ching Mai nightlife is not as crazy as Bangkok or Phuket for that matter, but there are still many places where you can have a good time and possibly meet a nice local girl.
There are mainly three types of girls in these clubs: freelancers, HiSo and curious girls.
– Freelancers are girls to lazy to work in bars or massage parlors. They are in their 20s and love to party while making some money.
These girls are FUN to be with, LOVE to party hard, and bang even harder… Not only that, freelancers are excellent tour guides showing you around Chiang Mai, besides emptying your balls.
However, they aren't free but not as expensive as Go Go bars girls.
– HiSo Chiang Mai Girls are usually born and grow up in a wealthy local family.
You can notice them because they dress very well, extremely expensive and act like superstars. Usually, they hang out in large groups making them almost impossible to approach.
The best way to meet one of those girls is by befriending a local Thai guy that has access to quality local people.
– Curious Girls are usually bored with their own culture and men, looking for new experiences outside Thai traditions.
Some might be studying, working in restaurants or shops and others might have finished a relationship with their longtime boyfriend.
It may take a while to get the girl to sleep with you but the main thing is that you would not have to pay anything to get laid!
Curious girls are lovely, traditional, willing to learn your culture and please you all the way. The bad news is they are not common.
If you prefer quick sex with hookers rather than quality girls, then check out the Chiang Mai nightlife guide below…
–
CHIANG MAI NIGHTLIFE
As mentioned already, the nightlife in Chiang Mai is nowhere near as wild as Bangkok, Pattaya or Phuket.
But this northern city still has something to offer when the sun sets and the night falls. The bars are open as early as 6 pm where you can play billiards and have a casual drink while flirting with the girls.
This gets progressively wilder as the night goes on as you go into the more livelier Go Go bars and perhaps end up the night at the nightclub.
Whatever the places you visit, fun is always guaranteed in Chiang Mai!
All the night spots are closed to each other and not require to take transportation.
To save you time and hustle, consider booking a room in the city center where most of the restaurants, bars, nightclubs and sex venues are located.
Best Girlie Bars In Chiang Mai
Most of the girlie bars are located in four areas:
Girlie Bars in Loi Kroh Road;
Chiang Mai Entertainment Complex;
Girlie Bars in Old Town;
Girlie Bars Chiang Mai Old Bazaar.
Girlie Bars in Loi Kroh Road
This area is popular for single men in Chiang Mai because there are bars, clubs, massage parlors, restaurants and hotels.
Senior men patrol this road because the Thai girls working in this area mostly over 30 years old.
The best bars are
If you prefer younger girls, then visit…
Chiang Mai Entrainment Complex
Located in Loi Kroh Road but an area of its own, a rectangular square with about 24 girly bars and more than 300 girls.
These bars have younger girls in their 20s but not as sexy as the one from the karaoke bars on Chang Klang Road in the southern part of town.
Girlie Bars in Old Town
There are bars and nightclubs in this area making it the best place to pick up Chiang Mai freelancers.
Girlie Bars Chiang Mai Old Bazaar
It's a structure with bars but very quiet, a bit sad if you ask me. There are 4-5 girls per bar who are bored by not having customers, most probably because they are ugly. If you're an adventurous person, have a try.
The best girly bars in Chiang Mai are:

Considered as one of the best Go Go bars in Chiang Mai and much raved upon. Foxy Lady is home to some of Thailand's hottest ladies, who actually like to perform!
With a modern setting and the unbelievable girls, this spot is a must.
A place not as modern as Foxy Lady, however it has a more chilled out atmosphere where you can experience the girls with minimal hassle. The girls are not as pushy and usually just lets you get on with it.
Best Chiang Mai Nightclubs To Meet Local Girls
The place for young travelers who enjoy partying, sexy Thai girls, and having a great night. Chiang Mai has a small nightlife scene with a few nightclubs that are worth to visit.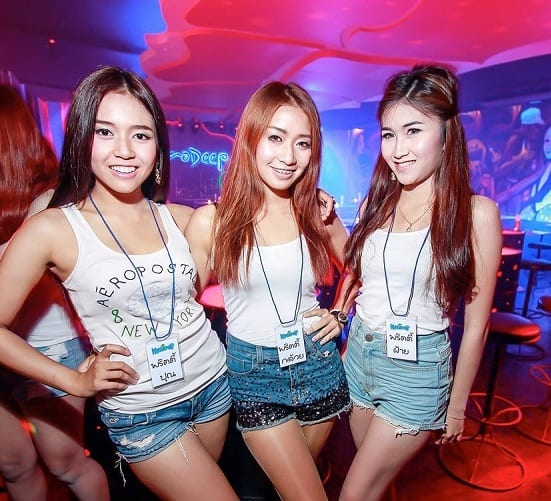 Hitting the clubs is the last resort to get laid with a willing Chiang Mai girl. The club crowds vary from freelancer, HiSo girls to curious girls.
The ongoing rate for freelancers is 1.000 bath per night and for the curious girls hoping to become your girlfriend, a few rounds of fruit juices would do.
Having said that, the tricky part is to evaluate who is who.
For first-timers in Thailand, it might be hard to separate the working girls from the girls there only to have a good time while looking for a foreign boyfriend.
Usually, freelancers dress and makeup like bar girls: shirt skirt, tits in view and "get attention" make up.
Instead, curious girls wear jeans, a normal t-shirt, and little makeup. Rarely, I saw a good girl wearing any makeup.
HiSo girls are super easy to spot because they act like superstars, dress well and exaggeratedly expensive.
To help you decide where to go, I've select the best nightclubs in Chiang Mai:
After Bar
After Bar is a great place to start the night, by having the casual drink and mingle with locals and tourists alike.
It is fast becoming the best hang out spots in Chiang Mai having a much more chilled vibe than nightclubs. Some of Chiang Mai's most beautiful girls hang out here.
Perhaps the most popular spots for young foreigners and hot local girls. The drinks are fairly cheap making it one of the best places to chill out.
There is a decent dance floor where you can dance away, or chill out in the outdoor bar. There are a lot of hot ladyboys amongst the gorgeous girls here so you can fill up your bag with both 🙂
One of the few places that open until very late (or early!) is Spicy.
With the doors closing at 6 am, patrons crowd into this place when all the other clubs shut their doors. Just across the road from Zoe in Yellow, this is a natural progression through the night if you want to continue partying.
The place is packed with freelancers either girls and ladyboys.
THINGS TO DO IN CHIANG MAI FOR ADULTS (WITH A LOCAL GIRL)
Mae Sa Waterfall – Enjoy walking through nature in the famous 8-tiered waterfall while being cooled down by the mist.
A wonderful view of nature made better if you are walking with a beautiful local girl side by side. It is around 40-minute drive from Chiang Mai and is the most visited falls in the area.
Royal Park Rajapruek – Take your girl through this beautiful park that features flowers and sculptures with an elegant commemorative chapel as the centerpiece.
Nice to have a quiet and romantic walk with your girl away from the city's hustle and bustle.
Meet Girls Online – While relaxing in my hotel room, I seduce Thai girls on Thai Friendly. This is a good habit to pipeline girls on the go.
Wat Phra That Doi Kham – Experience the local culture by visiting this famous Buddhism temple, and you may even impress her! It is located on top of a forested mountain with a 17 meter Buddha statue.
RELATED ARTICLES