Best Places To Meet Sexy Pattaya Girls & Prices
Most tourists visit Pattaya because it's super easy to have sex with hot Thai girls there.
Pattaya is the biggest red light destination in Thailand with 1000s of girls ready to have sex with you 24/7… No exaggeration.
Yes, it has some beaches, resorts, and good restaurants, but the girls are the main reason to visit.
The most happening nightlife area is the infamous Walking Street – there are gogo bars, nightclubs and beer bars loaded with sexy Thai girls for rent…
Another interesting area is LK Metro, a smaller version of Walking Street that caters to the locals.
The ongoing rates for sex range from 1.000 baht for a short time in Soi 6 to 5.000 baht for a hot spinner in the gogo bar.
But the standard rates are highly negotiable, especially if you pick up hookers freelancing in the nightclubs or in the streets.
From my personal experience, there are 3 major factors that influence Pattaya girl prices: type of girl, approach and season.
If paying for sex isn't really your thing, there are plenty of Thai girls willing to sleep with you without asking for money.
To remove your doubts and setting you up in the right direction, here a list of the best places to find sexy Pattaya girls hot for action:
Nightclubs
If you love to party and pick up girls at night, there are two main areas:
Walking Street – most Pattaya girls clubbing in this area are pros – around 70% – and party girls looking to get laid with a foreigner.
North Pattaya – there are Hollywood Disco and Differ that caterer to Thais.
In walking street it's easy to hook up and most girls speak English, but you have to deal with many prostitutes and freelancers under the radar.
Instead, in North Pattaya, you can meet good Pattaya girls out partying, but most of them speak only Thai or basic English making the conversation difficult.
Either you visit WS or North Pattaya, you need to know how to pick up Pattaya girls, they are different than women in your own country.
The price for a Pattaya girl freelancing in nightclubs is usually between 1.000 – 2.000 baht for all night.
On average, you are going to spend 1.500 for a sexy girl.
The best nightclub in Walking Street to hook up are:
Pick Up Bars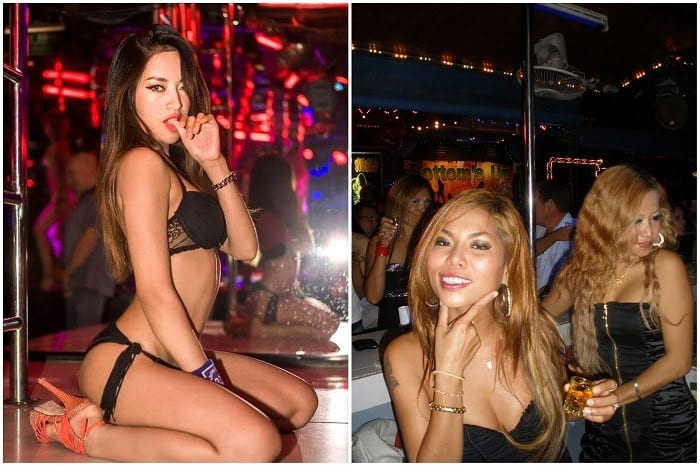 Another great nightlife venue in Pattaya are the numerous bars. They are everywhere.
There are two types of pick up bars in Pattaya:
Beer Bars – Open-air bars where you can hook up with bar girls happy to drink with you and have sex for a price.
Go Go Bars – Closed bars with girls dancing semi-naked on a center stage. You can pick up any girl for a price. 
To get a girl from the bars you first need to buy her a lady drink for 140-180 baht.
Then, pay a bar fine starting at 500 baht for most beer bars up to 2.000 baht for the most expensive go go bar.
Lastly, pay the girl for sex – short time around 1.000 baht for a bar girl up to 5.000 baht for a sexy gogo dancer.
As you can see, beer bars are much cheaper then gogo bars. However, gogo dancer looks better and are much younger than bar girls.
I've reviewed the best Pattaya gogo bars, so you don't need to waste money and time to check them one by one.
Online
This is the easiest way to meet girls in Pattaya without necessarily going out at night. Plus, it's a great way to find good girls if paying for pleasure isn't your thing.
First, girls without any info in their profile or with naughty photos usually are freelancers.
Instead, the one that takes the time to write a proper profile, are normal girls.
Most online girls in Pattaya are there because they want to meet a foreign man without going out in bars or clubs.
If you fear rejection or feel nervous to talk to girls, going online solve these problems.
Once you sign up, all that's left is to find the girl(s) you like and start texting away. A few chats and ask to meet if you are already in Pattaya… Or set a date for when you are planning to visit.
Once she agrees to a date, you can be sure she's going to have sex with you.
Sex Massage Parlors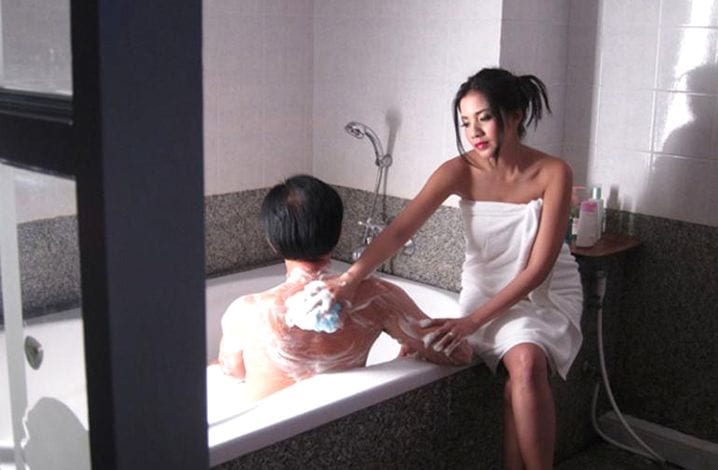 This is one of the two ways to have paid sex in Pattaya during the day. Another way is to visit the short time bars in Soi 6.
There are two types of sex massage parlors in Pattaya:
Soapy massage parlors – You get a body to body massage ending in sex.
Erotic massage parlors – You get an oil massage which ends with extras.
Pattaya soapy massage parlors offer an all-inclusive package starting at 2.000 baht for a session.
Instead, in the erotic massage parlor offering extras, you have 3 different options of happy endings: 500 baht for HJ, 800 for a BJ, and 1.000 baht for sex.
By now, you must have realized that Pattaya is the best place to go in Thailand if you are looking to meet local girls for sex.
However, it is not the place to find the girl of your dreams or get into a serious relationship. But an excellent destination if you want to rent a girlfriend in Thailand.
RELATED ARTICLES