China Sex Guide For Single Men
–
If you would like to meet sexy Chinese girls hot for action and know the best ways to get laid in China, this guide is what you need.
China is known as the factory of the world, but only a few people know that this country is a pussy paradise too.
In this guide, I'm going to reveal the best destinations to hook up in China and talk about Chinese sex culture, how to get a temporary girlfriend, and much more.
This China Sex Guide was last updated on 12 April 2021
***
Contents
Click a link to skip to that section. Don't skip any sections!
***
Intro to Sex Tourism In China
General information about Chinese sex culture
Where to Find Sex in China
An overview of the best places to get laid
Typical Costs + Tips
General prices in China to help you budget your adventure
How To Get A Holiday Girlfriend In China
How to meet and date Chinese women during your vacation
Top Cities To Get Laid In China
Best cities in China to find girls and sex
–
Intro To Sex Tourism In China
China isn't a popular sex tourism destination in Asia, and that is a great opportunity for single men with a fetish for Asians ladies. There are plenty of Chinese girls that crave the attention of a foreign man.
Several young girls want to improve their English or need some money to pay the school tuition fees. In fact, you'll find many students on dating sites and apps in China looking for a relationship with benefits.
Then you have several neglected married women looking for a good fuck… And an emerging class of career women looking for no string attached sex.
On top of that, every Chinese city has streets with hookers, erotic massage places and freelancers (self-employed prostitutes).
If you are wondering how easy is to have sex in China, it's very easy.
Besides the massive pay-for-play scene in the country, you've many regular Chinese girls eager to hook up.
You can easily meet and fuck girls from nightclubs, bars and other social venues by treating them for dinner or some holiday time with you.
And this brings us to the next chapter.
What About Girls & Sex In China?
Most people think girls in China are short, with white skin and without curves.
That is true for typical Chinese girls from the North cities like Beijing. But girls in the South are usually tall, tanned and well equipped.
Besides physical characteristics, most luckily you'll meet three groups of Chinese women…
1. Countryside girls who have gone to the big cities for work. Most are ready to jump into bed with any foreign man for obvious reasons.
2. Then you have the highly educated girls who started her career at 25 when left the university. They work hard and haven't much time for intimate relationships.
As a result, they become 'Sheng nu' (leftover) women unless they are from a rich family. Unmarried women in China are like a Christmas cake – unwanted after the 25th. They speak excellent English and mingle with foreign men in the hope to get married.
3. The last group is the divorced women. They are been dumped by their Chinese husband and now struggle financially. Any support is welcome, you can find plenty of them on dating sites.
Usually, the girls able to speak English are the ones carefree in their approach towards life and sex. They typically have born in a mixed-race family or study for years abroad.
In the cities, many girls are financially independent and strong-minded. Unless you hook up with a countryside girl who just arrived in the city.
Understand that Chinese men's idea of true beauty is young (under 24), ultra-slim, 170cm tall and rock-hard C tits.
It means if your taste for women is different than most Chinese men, there are plenty of horny Chinese women ready to meet up.
Keep in mind speaking Chinese is a significant skill to have in your arsenal. Chinese girls hardly can resist a foreigner able to speak their language.
If you aren't confident, or rich, or able to speak Chinese, your best chance is to meet Chinese girls online.
Chinese girls who mingle online can speak English and are into foreign men. Meaning you'll have an easy time to hook up or find a fuck buddy rather than visiting social venues.
Where To Find Sex In China
Having sex in China isn't that hard if you know where to look for it… And the best places to start your search are…

1. Online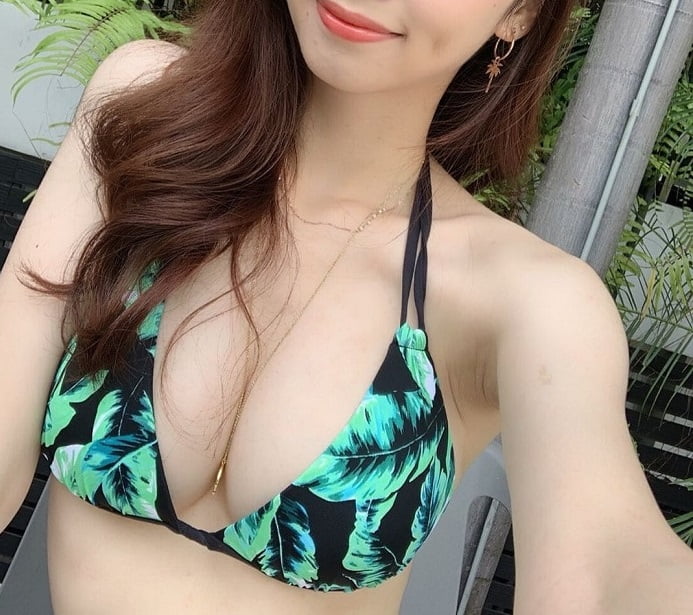 There is all sort of apps and sites in China for most needs. But if you want to meet and fuck with singles or couples, the easiest way is to sign up on Asian Match Mate.
It's an open minded community for horny people that enjoy having casual sex. From threesomes to sex parties, there is something for everyone.

2. Nightclubs & Pick Up Bars
Every city in China has a nightlife area that caters to foreigners. You can find nightclubs and bars with party girls as well as working girls.
It isn't that easy to pick everyday girls because of their poor English skills and the noise in such venues. The best way is to buy a drink for the girl and get out of there as soon as possible.
Check out the Guangzhou sex guide for the best nightlife in China.

3. Escorts – Call Girls
All over the country, you can find independent escort and escort agencies. If you have money to spend and not enough time to recruit girls by yourself, escort services are the way to go.
Keep in mind that in China is common the bait and switch tactic. It means you never get the girl in the photo.
That isn't a so bad thing if you aren't picky. From experience 2/3 of the girls are pretty while the remaining 1/3 aren't worth the money.
If an ugly Chinese escort shows up, just reject her. The pimp will arrange a new girl for you.
For a decent escort, you have to pay at least 800 rmb, pay less and a grandmother might show up.

4. Barber Shops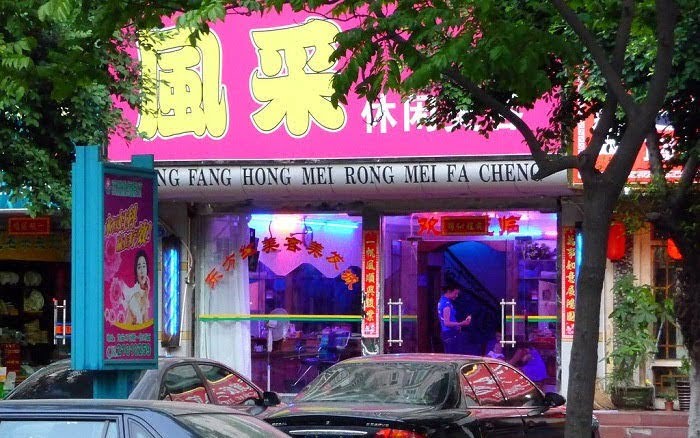 For a quick blow job or hand job, barber shops in China are a good value for money. Expect to pay 300-500 Rmb, but that doesn't include a hair cut 🙂

5. Sex Massage Sauna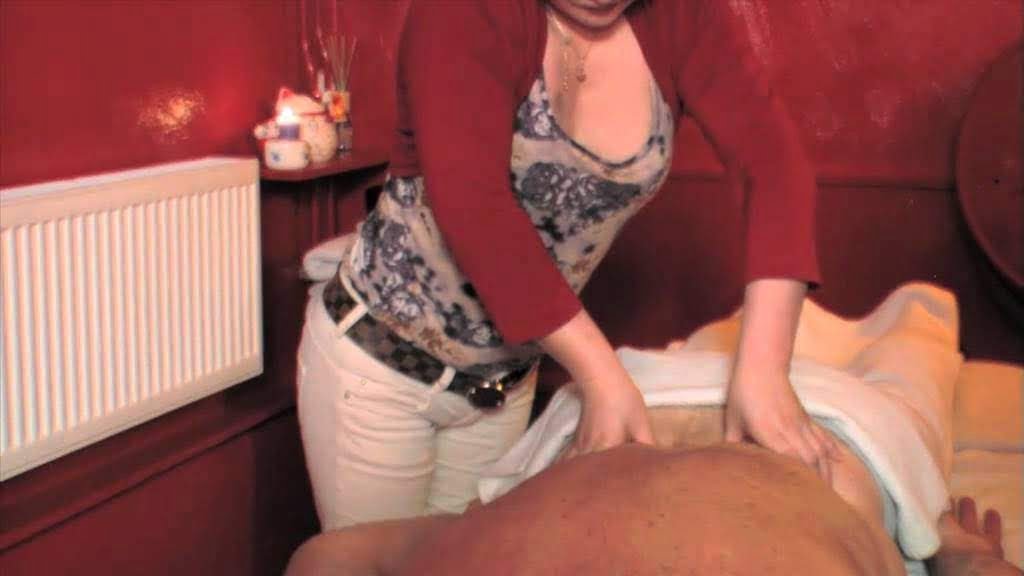 Most high-end hotels have a sauna that offers happy ending massages. There are also several independent saunas that offer extras.
You can get relaxations as well as extras but in most cases no full sex. Shenzhen is a well known city for blow job saunas, but only in Hong Kong you'll find full-service saunas.
Other Chinese cities have clap down on parlors that offer erotic massages. The result is you can get no more than a handjob.
Anyhow, you can always ask the masseur to give you her phone number for a private full service in your hotel room.
For massage with HJ (handjob), the price is around 300 rmb while massage plus blow job is about 350-400 rmb.

6. Street Hookers
The lowest type of prostitution in China are street hookers. If you walk the small alleys in the red light areas, you can find pimps and streetwalkers.
They are cheap, dirty and they can't speak a single word of English.
But if you love adventure, risk, and a cheap fuck, you can get laid with a Chinese streetwalker for 200 rmb.
Typical Costs
• Entraitment and Companionship
The price for girls among the major Chinese cities is pretty much similar. Expect to pay at least 200 Rmb for a session with a streetwalker and up to 3.000 Rmb per hour with a hot escort.
If you visit the countryside, the girls charge as little as 150 Rmb for sex. But prostitution there is gear forward Chinese men.
However, it isn't necessary to look for hookers when you can contact students on sites like Seeking Arrangements.
There plenty of young, beautiful and intelligent Chinese students that offer friendship, companionship, and intimacy.
Most Chinese girls that I have befriended have not in the short term wanted anything more than a good time, practice English, have dinner in places they can afford or stay in a nice hotel for a while.
• Accommodation
There are three options:
local hotel
international hotel
Airbnb
Local hotels are cheaper than International hotels. The price for a decent room is about 300 rmb, less than that you are asking for trouble.
International hotels offer comfortable stays and international standards. Prices start at 700 rmb to the moon for a luxury suite.
Airbnb is pretty popular in China, especially in Shenzhen and Beijing. With prices similar to local hotels, you can have a condo all for you and your lady guests.
• Food
Chinese food is delicious and cheap. You can have a meal with 20 rmb.
If you want to eat your home country food, there are several restaurants in the big cities. but the quality and the price of food aren't that great.
So, stick to the local food, and try the scorpions!
• Transportation
Chinese cities have modern transportation with metro, taxi, and buses. The metro is the cheapest way to move around the city with fares at 2-7 rmb. Taxis start at 10 rmb.
How To Get a Holiday Girlfriend in China
If you want a Chinese girlfriend, I'm going to show you how to get one. It isn't that hard if you know where to look for her.
Having a Chinese girlfriend is the best way to experience the country even if sex isn't in your mind. She speaks the local language, knows how to do things in China and how to get the best deals.
Besides all the evident practical stuff, Chinese girls are affectionate and caring. You'll never feel alone and enjoy the intimacy of a girlfriend.
Just imagine staying with an attractive and young girl…
She spends time with you, enjoys each other company and never makes you feel lonely. Let alone having intimate moments when in private.
The best way to get a Chinese girlfriend is to use a popular dating site in China. There are plenty of girls looking for a foreign boyfriend.
If you want to be successful in meeting Chinese girls online, create a profile that catches attention. Write a few words in Chinese like 我的名字是 (My name is…) and upload a few photos well dress.
Then search for suitable girls, start several conversations and built a list of potential girlfriends. Once in China, just meet up.
P.S Only two warnings. In China is normal to have taken professional photos that make the girls look ten years younger. Second, the photos are usually old. So ask to send over some selfies or go for a video chat. You won't be disappointed!
Top Cities To Get Laid In China
The major destinations for hookups in China are:
Beijing Sex Guide – The capital of China has great nightlife. The girls in Beijing are hot for action, and there are a variety of sex venues to keep you busy for days.
Chengdu Sex Guide – Delicious Sichuan cuisine and horny girls are the attraction of this city.
Dongguan Sex Guide – This city has so many girls compared to men that it is the norm to have two or more girlfriends.
Guangzhou Sex Guide – Located in the South of the country, the weather is favorable for parties year-round. Chinese girls in this city are tall, dress well, and know how to please.
Shanghai Sex Guide – It's the fashion city of China. The girls know how to dress and impress while open-minded forward hookups and sex.
Shenzhen Sex Guide – It is one of the youngest cities in China. Meaning there are enough young girls in their 20s.
Best Cities For Sex In China
This concludes this sex guide to China, have fun!
RELATED ARTICLES
KEEP SCOUTING
China: Beijing | Chengdu | Dongguan | Guangzhou | Shanghai | Shenzhen
Asia: Cambodia | Indonesia | Japan | Kazakhstan | Malaysia | Mongolia | Singapore | South Korea | Philippines | Thailand | Uzbekistan | Vietnam