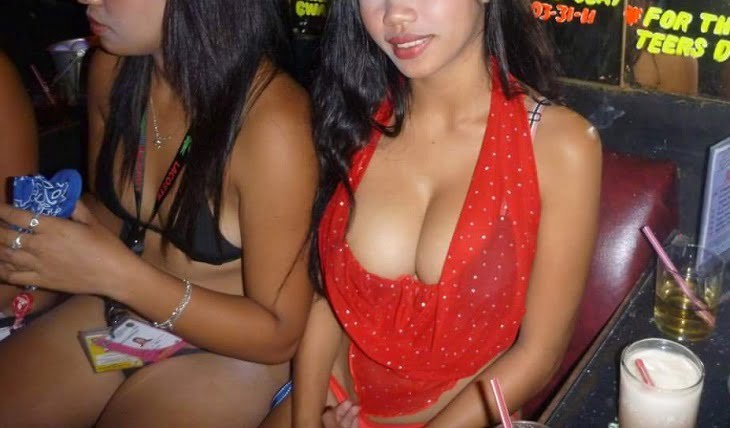 Philippines Sex Guide For Single Men
–
If you would like to know the best destinations in the Philippines to get laid and how to hook up with sexy Filipino girls, this guide is going to help you.
I'll show you the best places and ways to get laid in the Philippines, but also how to find intimacy and companionship that only a girlfriend can offer.
Some part of this guide focuses on the P4P scene (Pay for Play) while other sections will help you to find companionship for more than a night stand.
This Philippines sex guide last update was 5 may 2021

Spoiler Alert: It isn't still possible to fly into Manila this year because the borders remain closed to foreign travelers.
On the bright side, this gives you an excellent opportunity to jump into a webcam site for some naughty performance and interaction with Filipino ladies.
Or alternatively, you can try your luck with some local ladies in your area on this adult dating site. You won't find love, but probably that isn't what you're looking for anyway. 

***
Contents
Click a link to skip to that section. Don't skip any sections!
***
Intro to Sex Tourism in The Philippines
General information about Philippines sex culture
Where to Find Sex in Philippine
An overview of the best places to find girls for sex in the Philippines
Hook Up With Transgenders And Ladyboys
Typical Costs + Tips
General prices in the Philippines to help you budget your adventure
How to Get a Holiday Girlfriend in Philippines
How to date Filipino women during your vacation
Best Cities in Philippines to Get Laid
Top destinations to meet girls for sex in the Philippines
–
Intro To Sex Tourism In The Philippines
The Philippines is the biggest sex tourism destination in South East Asia after Thailand.
Single men from all over the world come here because of the beautiful Filipino girls that are an easy catch.
Not only you can find many sexy girls in the red light districts across the country, but there are also plenty of civilian girls with a fetish for foreign men. This is why sex holiday tours in the Philippines are very popular.
Most Filipinas can speak proper English and offer a great girlfriend experience.
Meaning men not only can find sex but also companionship, friendship and intimacy. Instead, in other Southeast Asian countries communication is an issue.
In fact, most foreign men who live or travel for extended periods of time here rent a Filipina girlfriend. It's convenient and cheap.
Yet, it isn't only about relationships with benefits. Many men travel to the Philippines to indulge in sexual pleasures.
Prostitution is widespread across the country, and there are even towns built around the sex trade like Angeles City and Subic Bay.
The red light district areas have clubs and bars with sex workers employed as singers, dancers, waitresses and "guest relations officers" that can leave with any client who pays a fee.
Prostitution is so well regulated with girls working in the industry undergoing regular health check-ups, that you might think it is legal. But in reality, prostitution in the Philippines is illegal.
However, it isn't necessary to visit the red light districts if you want to get laid in the Philippines. There are plenty of everyday girls craving to meet a foreign man, and they are pretty easy to bed.
A look at a few apps in the Philippines makes you realize immediately how many horny and hot for action Filipina there are around the country.
What About Sex And Girls in Philippines?
Girls in the Philippines are extremely open to the idea of meeting a foreign man. The reason is the Western influence in the country.
The dating market is favorable to foreigners because the Philippines doesn't get mass tourism like Thailand… And most foreigners are usually in their senior years and engage in the P4P scene (Pay for Play).
There is massive social segregation in the Philippines: rich or poor. Most of the country has poor girls desperate for money and the main reason for so much prostitution.
The good thing is you can easily meet quality girls if you stay in good locations. There are places for the upper class that are safe and clean. Of course, in the top areas, you are going to find sexy and intelligent Filipinas…
They know how to dress, move, flirt, and are horny as hell in bed.
Philippines girls, in general, are shy and reserved. So they will never approach you, but give you eye contact and smile, giggle and laugh with their friends to allow you the opportunity to start a conversation with them.
The exception is on dating sites like Pina Love where it's normal to get contacted from the ladies.
What about sex?
Most girls are down to fuck once you bring them to your room. They know why you brought them there, and get horny pretty quickly.
They are really horny even if they are doing it for money, and offer incredible girlfriend experiences. Don't expect wild sex sessions with sloppy blowjobs or anal in most cases, but intimate moments.
If you are looking for crazy sex sessions like anal or deepthroat blow jobs, you better pay a prostitute. Regular girls aren't much open-minded forward sex, yet they try their best to please you.
The majority of girls in the Philippines are nice and can become good friends. Only the working girls who have sex for money are scammers and cheaters.
So stay away from the red light areas in the Philippines, there are plenty of horny Filipinas that aren't gold diggers.
Where to Find Sex in Philippines
The best places to meet girls and get laid in the Philippines are…

1. Online
If you are into threesome and swinging activities or simply want to find a sex partner, Asian Match Mate has an active community for people interested in no string attached sex.
In the case you're looking for something more than just sex like intimacy, friendship and companionship, popular sites in the Philippines like Seeking Arrangement are a great way to find a relationships/arrangement with a local girl.

2. Nightclubs
The nightlife in the Philippines is active, especially in the big cities and tourist destinations.
There are nightclubs exclusively fill up with independent prostitutes, but in most cases, they mixed up with regular girls. It's hard to figure out who is who at times.
Usually, clubs located nearby the red light areas have the most working girls.

3. Girlie Bars
Girlie bars are pick up places for foreign men that want to have sex with girls.
The typical bars around the Philippines are:
beer bars
bikini bars
karaoke bars
In some beer bars you can find freelancers, but most only serve drinks and company. Bikini bars have girls dancing on the stage with a tag price. Karaoke bars have private rooms where you sing with friends and girls.

4. Erotic Massage Parlors
Not very common around the Philippines, erotic massage parlors provide relaxation with a happy ending.
You can get full sex massages in Manila, but in other destinations, you can get a handjob or blowjob. The full service is usually provided only in your room as a private service between you and the therapist.

5. Escorts
In most cities, you can find escort services, but they are expensive and sometimes a pain in the ass. For example, call girls in Manila turn up usually 1-2 hours late, and they don't always look like in the photo.
However, if you have the money, you can get some top-notch babe. Meaning escorts in the Philippines are worth it only if you can afford to spend big. Otherwise, it's better to hire a freelancer.

6. Street Hookers
The last resort to have sex in the Philippines.
There is an abundance of street prostitutes in the Philippines. Most are underaged, desperate, sick, or incline to make troubles.  Refrain from getting involved with hookers in the street. There are many better ways to get laid.
In nightclubs, you can pick up freelancer prostitutes for cash as well as in the numerous girlie bars around the country.
Hook Up With Transsexuals And Ladyboys
If you are into transsexual and ladyboys, the best way to hook up or have virtual intimacy is to use a site like TSdates.
There are millions of members all around the world that broadcast nude streaming and look for hookups.
Of course, you can hookup the classic way by visiting places popular among ladyboys. But usually, those are in the red light districts and you know what the deal is all about.
Typical Costs
• Entraitment And Companionship: The most expensive girls are escort charging between 4.000 pesos up to 12.000 pesos per hour.
In the middle price range are the bar girls working in the red light areas. Expect to pay 3.000 pesos for 2 hours or 5.000-7.000 for all night.
If you want to save some money and have fun anyway, hook up with freelancers in nightclubs for 1.000-2.000 pesos.
And if you don't like to pay girls for companionship, contact a few girls on a popular dating site in the Philippines and go for a date.
• Accommodation: Outside the capital Manila, budget travelers can get by for around 800 pesos on simple accommodations. Mid-range travelers should budget around 1.400 pesos for reasonably comfortable hotels or simple resort accommodations.
Once you enter the top-end territory, the sky is almost the limit: top-end accommodation prices will almost always be quoted in US dollars. They average around 5.000 pesos for a resort or standard hotel (though this can go much higher).
Of course, as far as prices go in the Philippines, location is the operative word. Manila's accommodation (especially mid-range) tends to be pricey compared to the provinces.
Likewise, the internationally famous resort Boracay is a lot pricier than most other islands, though bargains can be found even there.
• Food: It's very cheap to eat in the Philippines. Street food will cost you about 100 pesos per meal, and restaurant food will cost between 100-300 pesos per meal. Western meals at nice restaurants cost more, from 400 pesos and upwards.
• Alcohol: The Philippines is the second cheapest country in Asia to buy alcohol, whether beer, wine, or even premium imported brands.
I honestly cannot think of a single duty-free purchase of liquor, in any country where I have traveled, where alcohol is cheaper than local supermarket prices. In bars, local beer will cost you 70 pesos and in a girlie bar between 80-200 pesos.
• Transportation: Travel within the Philippines isn't difficult if you don't mind riding the sometimes rickety public transportation.
Public transportation starts as little as 20 pesos up to 600 pesos for long bus trips.
Tips & Tricks
• Build a contact list. Don't arrive in the Philippines unprepared, get in contact with a few Filipino girls online.
• Don't waste time. Filipino girls on dating sites are horny as much as you. Be on point: "Hey beauty, my name is Rocco. Are you free to meet next week?
• Backups. Sometime a girl can't make it to the appointment. Keep a girl in reserve.
• Keeping your belongings secure. Theft is a relatively low risk in the Philippines, but snatch-theft and theft from hotel rooms are not unknown.
• The legal age of consent is 18 and you are strongly advised to stay clear of anything younger than that. Be aware of street girls connected to the police that organizes scams. Make sure she shows you her ID.
• Don't buy drugs from the streets. The drug laws in the Philippines follow a pattern set by the drug laws in the rest of Southeast Asia – they're strict and ready to make an example of any tourist foolish enough to be caught indulging in illegal drugs while on the island.
• Taxi scams. Probably the most prevalent scam the tourist will run into when taking a taxi cab in Manila, Cebu, Davao, or any other major city, is the driver's claim that his "meter is broken," or not working for some other reason. Offer him a tip if he uses the meter.
• Money exchange. Upon landing in the Philippines, it is a good idea to change a couple of hundred dollars at one of the money changers booths right at the airport. Most reputable hotels change money, and some at a better rate than the banks.
–
How To Get A Holiday Girlfriend In Philippines
If you are wondering how to find a girlfriend in the Philippines to spend your holiday together while having intimate moments… I'm going to show you where to find one.
Filipino girls dream of meeting a foreign man to share romantic experiences and intimate moments.
Can you imagine spending your vacation with a young, attractive and horny Filipino girlfriend?
Enjoy activities with her, explore places, and get intimate at night… But most importantly, never feel alone in a foreign country.
A Filipino girlfriend is the way to experience an unforgettable holiday in the Philippines. No need to look for companionship in the seedy red-light district or wandering around all alone.
When I travel to the Philippines, I make sure to find the right girls and only after I book the flight and accommodation.
Unfortunately, most travelers do the opposite. They get busy searching for a cheap flight and hotel while leaving the most critical task last: find a girl.
No wonder they end up with a prostitute and feel disappointed about their journey. You don't need to pay a hooker for companionship in the Philippines. That's insane!
There are so many girls desperate for attention and intimacy, that it's unlogical to pay for companionship.
The best way to find a holiday girlfriend in the Philippines is to use a dating site like Pina Love. So many girls are eager to meet a foreign man.
Write a profile mentioning your interests and hobbies. Then upload a few of your best pictures with a big smile on your face 🙂
Contact several girls by asking if they would like to meet up. Build a list of potential girlfriends, and once in the Philippines, have a good time.
Best Cities In Philippines To Get Laid
I have already covered in detail the best Filipino cities to get laid. And not only the one popular among sex tourists but also the top cities where you can hook up with everyday girls.
Angel City Sex Guide – Travelers that are more price-conscious or simply prefer a more relaxed pace often travel to Angeles City.
Angeles City is gaining world fame today as the entertainment capital of the Philippines.
Manila Sex Guide – The sex scene is quite developed with options for all types of travelers.
Nightclubs, Agogos, and bars abound where you pay a fee to the establishment (also called a bar fine) to take the lady back to your hotel. Manila has the most beautiful hookers in the country.
Makati Sex Guide – The business district of Manila with the hottest girls. Where the money goes, the sexiest women follow. If you have money to spend and you like top ladies, Makati is the right place for you.
Cebu Sex Guide – Cebu is a big island one hour away from Manila, easily accessible by plane.
Cebu is the middle ground between Angeles City and Manila. Between pure naughtiness and a chaotic metropolis.
Beautiful beaches, green hills, and a vibrant nightlife make Cebu the place to go for party and relaxation.

Subic Bay Sex Guide – Subic Bay is a small resort town in the Philippines worth visiting.
There are beaches and most importantly, HOT girls!

You'll find many activities to keep you entertained during the day and enough bars for 2-3 naughty nights out.
Boracay Sex Guide – If you love the beaches, Boracay is the place for you.
Besides stunning beaches and diving sites, the island attracts an international crowd.
You can meet so many hot Asian girls from Japan, Korea, Malaysia, and more. It is the favorite gate away for open-minded Filipino girls coming from the major cities.
Bohol Sex Guide – A quiet destination where you can meet provincial Filipino girls.
The bar scene is tame but fun. If you are looking for a long-term relationship with a Filipina without wanted to get married, you can hook up with the many bar girls that want a way out.
Map Of Best Cities In The Philippines To Hook Up With Filipino Girls
Now that you know about the sex life in the Philippines, read up about the best apps in the Philippines to get you laid.
If you have enjoyed this sex guide, read more about the Philippines.
RELATED ARTICLES
KEEP SCOUTING
Philippines: Bohol | Boracay | Cebu | Makati | Angeles City | Subic Bay
Asia: Cambodia | China | Indonesia | Japan | Kazakhstan | Malaysia | Mongolia | Singapore | South Korea | Thailand | Uzbekistan | Vietnam