Saigon Sex Guide For Single Men
If you're craving for a sex holiday in Saigon and want to know the best places where to find sexy girls hot for action, this sex guide has all the info you need.
You should enjoy your trip to Saigon, instead of worrying about where to go, what do and most importantly how to do it.
I'm going to cover all the things you need to know to experience the ultimate Saigon sex vacation, either you are single or a couple.
So, if you're serious about having sex in Saigon every day, please take 10 minutes of your time to digest the full article.
This guide is going to focus mostly on P4P scene (Pay for Play). If you prefer to meet and date everyday Vietnamese girls, the one working regular jobs in hotels, restaurants or shops, then get on a popular Vietnamese dating site instead.
This Saigon Sex Guide was last updated on 07 September 2019
***
Contents
Click a link to skip to that section. Don't skip any sections!
***
Intro to Prostitution in Saigon
General information about Saigon sex tourism
Where to Find Sex in Saigon
An overview of the best places and ways to get laid
Typical Prices For Sex
General prices for girls in Saigon to help you budget your adventure
How to Get a Holiday Girlfriend in Saigon
How to meet and date Saigon women during your vacation
Must to Do During a Saigon Sex Tour
Mongering activities in Saigon
–
Intro To Prostitution In Saigon
You can find sex in many places around Vietnam, but Saigon has the largest population and the most options for finding girls for full service.
Saigon prostitution is rampant and can be found in most part of the city. There are several red light district area with girls aggressively promoting their services. It's hard don't get tempted when walking down the streets…
There are even districts that cater to specific interests like "Little Japan," a small, walkable area of District 1 that is everything Japanese. The Vietnamese girls wear tight and sexy cosmo dresses that make you wonder if you are in a manga magazine.
From the barbershop offering blow jobs to the massage parlors offering happy endings, You'll find massage places, Saigon provides something for everyone.
In the last few years, Saigon prostitution has spread online, mainly using dating sites and apps to woo clients. There is no shortage of paid sex for that matter.
The good thing is you don't need necessarily to pay for sex in Saigon if you want to get laid. There are plenty of Vietnamese girls eager to meet a foreign man, and later in this guide, I'm going to show you how to contact them.
This Saigon sex travel guide will tell you how much things cost, how to stay safe, the best places to find girls, and everything in between!
What About Girls & Sex In Saigon?
Generally speaking, girls in Saigon are open-minded and liberal forward sex. They love to have fun and are eager to try new things…
That doesn't mean they are all easy going. It takes some leg work to get laid in Saigon like anywhere else in the world. I'm not referring to prostitutes, but everyday girls like students and office worker.
If you don't like to pay girls for having sex, then you will probably find the dating sites extremely useful. Dating sites like Vietnam Cupid are the best way to meet girls who are looking for a foreign boyfriend. But there are also plenty of ladies looking just for fun and adventures with an "exotic" white guy.
It seemed very easy to get cute girls online to visit you. Message a few girls and let them know that you are in Saigon for a few days – you'll be surprised to find out their eagerness to meet up in their favorite cafe.
If she likes you, the natural next step is to go to your room. It doesn't take more than two dates to get laid with a girl in Saigon…
The best strategy that has worked for me: first meet during the day in a mall for one hour and screen the girls — things like English ability, attractiveness and sexual openness. Then schedule a 2nd date at night with dinner and drinks.
For me, dinner and drinks 2nd dates led to way better results, than just one of the two options alone. I never got flacked.
Having sex with a Saigon girl might be a lot different than with a girl from your country. They are shy at first, with little initiative and expect you to lead. The good thing is they are submissive and will do anything to please you.
Imagine having a massage first, sex later and then brought food to satisfy your appetite. It isn't only the act of sex, but all the experience around it.
Where to Find Sex in Saigon
The best places to find girls and have sex in Saigon are:

Online
Most of the action in Saigon can be found online. The internet has been hijacked by sex workers promoting their services and everyday girls looking for casual sex.
The best sites and apps to get laid are:
• Vietnam Cupid – It's the most popular dating site in Vietnam that connect Vietnamese girls with foreigners.
• WeChat – Once you arrive in Saigon, you can use the "people nearby feature" to scout for freelancers in the area. Negotiate the transaction before agreeing to have them come over.
• Tinder – This app work wonders for young dudes with a six-pack. If you aren't a handsome man with a great physique, you better don't waste your time as this experiment has revealed.
• Asian Match Mate – It's a site where singles and couples go for no string attached sex. If you get offended by amateur nude photos and dirty videos, stay away from it.

Nightclubs & Pick Up Bars
The majority of nightclubs and bars to pick up girls are located in District 1 and Bui Vien Street. There are everyday girls as well as prostitutes freelancing, so pay attention who is who.
Before midnight mingles in the bars where most girls chill out with friends . After that hit the nightclubs for the rest of the night.
The best nightclubs and pick up bars are:
• Gossip Club
Located in the Dai Nam Hotel, there are plenty of high-class girls.
• Apocalypse Now
It's a layback nightclub with a high percentage of freelancers. There are also every day Vietnamese girls, but you'll need the "hooker radar" to spot them.
• Lush
Great for ladies night on Tuesdays. Hot girls easy to approach. Worth visiting on weekends, not so busy during the week.
• Chill Skybar
Dress appropriately and wear shows. In this bar, you'll find women that need to be impressed. There are foreign and Vietnamese ladies.
NOTE: Most hookers freelancing in the club will rob you once in your room. Most have pimps and their aim is to take as much money from you as possible. So keep an eye on your belonging.

SPAs – Saigon Sex Massage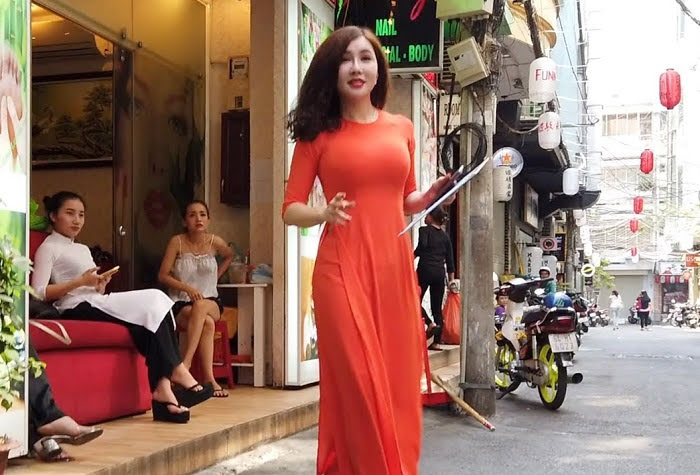 Saigon has a good number of spas that offer happy endings after a massage. The selection of girls is top-notch, but you pay for it. Most places provide only handjobs and blow jobs, no sex.
The best spa offering happy endings in Saigon are:
• Queen Bee Spa – A selection of about 25 beautiful girls. The girls are welcoming and skilled. The only spa in Saigon that offers full service.
• Phung Thuy Massage – High-end spa offering full sexual services. Sauna, bathtub,  oil massage, rimming, blowjob, final bath. No sex and the girls keep the cloths on.
• Zeus Spa – Similar routine of Phung Thuy Massage, but you also get a stone massage and full sex if needed.
The best time to visit is between 8:30pm to 11pm.

Saigon Hookers in Streets & Parks
At night it isn't hard to find street hookers around Saigon. The most popular areas are Bui Vien Street and the alleys of Little Japan.
If you walk near a park and a girl on scooter approach you, she is prostitute trying to hook you up. Parks in Saigon are notorious places to find working girls.
The ongoing rate for a short time is anywhere between 400k-500k.
However, I recommend visiting a brick and mortar place if you want to engage the services of a prostitute because street prostitutes tend to make problems.

Hot Toc In Saigon: Blow Job Saloon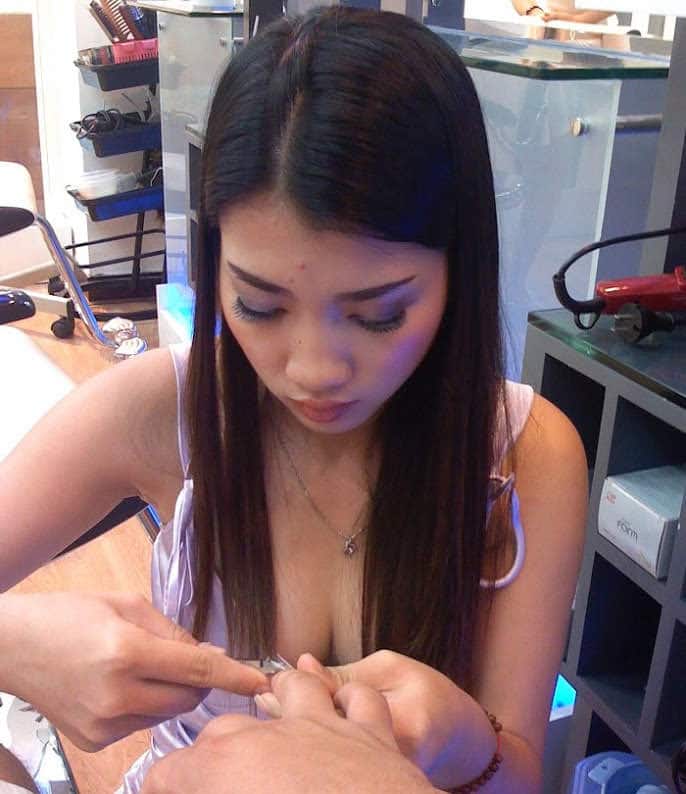 Hot Tocs are barbershops with a twist, they don't do any hair cut but only massages and blow jobs.
Don't expect beautiful or young girls, but you can get a wet head job. The standard rate is 400k Dong, and you can touch the girls anywhere.
Walk down Nguyen Phi Khanh Street, you'll find about 10 Hot Toc.
How To Meet Saigon Girls Online
Going online to meet Saigon girls is the new trend. You can find a bit of everything, from the student who needs extra cash to the everyday girl looking for a serious relationship to the freelancers searching for customers.
Some sites and apps cater to certain groups and specific needs. Here's a list of the best online places to meet girls in Saigon:
VietnamCupid: This site connects Vietnamese girls to foreign men. There are girls looking for relationships, hook ups and freelancers.
AsianDating: The largest Asian dating site with plenty of Vietnamese girls looking for a serious relationship.
Asian Match Mate – The naughtiest dating site in Saigon. You can find singles and couples interested in no string attached sex.
Start by writing a profile stating what you are looking for and talking about your personal life. Then upload a few good photos, showing your personal life. Look at your best, not stonned or drunk
Make sure to verify your profile and upgrade the membership status. It helps to get more attention and response from the girls.
You are now ready to go!
Typical Prices For Sex
• Fix Prices For Sex
When visiting a business that sells sex, the prices are fixed and can't be negotiated. Ask for the menu and pick the service you need.
Here a list of standard prices for each business type:
Spas: The price for a happy ending massage starts at 600k, for massage and blowjob is 900k, full service 1.400k.
KTVs: KTV's girls' prices range from 500k for a short time to 1 million for all night. It doesn't include rent for the karaoke room 200-300k per hour plus 100k/h for each girl in the room.
Hot Toc – Hair Salon: 400k for a massage and BJ.
Escorts: 800.000+ Dong.
• Variable Prices For Sex
This refers to girls that work for themselves life freelancers and street hookers or everyday girls that need a side income. Their prices are variable based on their location, age, the way you interact and present yourself.
These prices are just an indication to guide you:
Street hookers: 400-500k for a short time up to 900k for all night.
Freelancers in the nightclubs: from 500k to 900k for all night. You can budget on average 700k.
Hookup Sites: the cheapest option is to meet girls on Seeking Arrangement.
Most men fixate on the deal. Don't worry about it, just talk to the girls and wait for them to offer. That way you show confidence and as a result, they lower their asking price.
Don't forget to bargain, in Vietnamese culture it's expected.
If paying all this money just to have sex isn't your things, consider reading the next section where I explain how to get laid for the price of a meal or coffee.
How To Get a Holiday Girlfriend in Saigon
If you are looking for a Saigon girlfriend for a week or two, I'm going to show you where to find one.
Saigon girls are beautiful, well mannered and know how to please. You're going to get lost in long conversations and longer nights of passionate sex.
Just imagine being with a young, attractive and horny woman while touring Saigon…
While there is a lot of prostitution in Saigon, there are even more quality women dreaming of meeting a foreign man for a serious relationship or an affair.
It doesn't make any sense to visit a red light district in Saigon if you stay for more then two days. There are so many local girls interested to meet you.
They offer intimate experiences like only a girlfriend is capable of offering. It isn't only about money like when dealing with a prostitute, but about feelings too.
Just think about this: you are at home chatting with this adorable girl waiting for the moment to meet each other in Saigon.
She wants you so badly, and you want to feel her. What will be once you meet face to face in Saigon? When both of you are finally behind closed doors.
Have the opportunity to date beautiful and love caring women is only one benefit… Clash with a new culture, try different foods and see new locations are all common side effect of traveling.
The best way to get a girlfriend in Saigon is by using a popular dating site like Vietnam Cupid. Girls on dating sites are there because they want to meet a foreign man, and you want to meet a Viet girl.
To get started, write your profile with a realistic view about life and what you are looking for in a girl — being explicit respects everyone's time evenly.
Then upload a few good photos where you are groomed, well dressed and look at best. Not drunk, stoned or posing in front of a Maserati that isn't yours 
Make sure to verify your profile as this put you straight up on the search and that "verified badge" is going to land you more attention and response from the girls.
Just search for your perfect match and start the conversation with the girls. That's it! Build your list of potential girlfriends, and once in Saigon, just meet up.
Must To Do During a Saigon Sex Tour
• Visit a Spa That Offers Happy Endings
In Saigon, you'll find spas that offer a truly relaxing experience. As explained already in the spa section above, you'll get a sauna, bath, massage and a happy ending. It's a great way to spend 1-2 hours in the afternoon.
• Meet Local Girls 
Visit a new destination to have sex only with prostitutes is plain sad. Dating a local girl offer you more than just sex, but intimate moments together like only a girlfriend can offer.
It also allows you to blend with a different culture, try new dishes and see different places that only local people know.
The best way to meet local girls is to use a dating site like Vietnam Cupid. Girls in Saigon use dating sites to meet foreign men.
• Try a Hot Toc – Hair Saloon
It's interesting to visit a hair salon to end up in a back room for a massage and blow job.
If something you might be interested in, check the Hot Toc section above.
That wraps this Saigon sex guide. Have fun!
RELATED ARTICLES