Thai Girls Guide: Meet, Date & Get Laid
Thai Girls Are Feminine and Beautiful, But There Is More…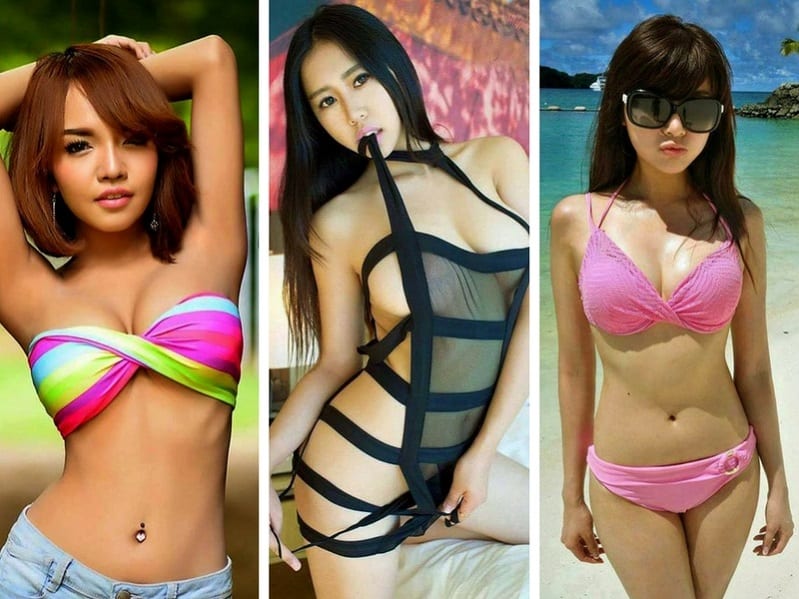 "Once you meet a Thai girl, you'll come back for more."
Thailand is world known for its beautiful and feminine Thai girls who are willing to please any man's desire.
Not only Thai girls are beautiful but are masters in pleasing a man.
She'll learn FAST your interests, accommodate your desires while giving you the best sex of your life. In fact, a relationship with a Thai woman is all about YOU.
What I love about Thai girls isn't only their femininity and beauty, but their easy going attitude and urgency to have sex.
Typically, I don't like to spend more than 24 hours of effort to get laid.
I think it's unreasonable because there are so many Thai girls out there willing to sleep with me, even if I'm not rich, handsome tall or with six packs.
The good news is that if Thai girls are eager to get hammered by me, you'll get laid too.
I have prepared this Thai girl's guide for single men looking for lust, love and romance in Thailand.
I get to cover a wide range of Thai girl's profiles which suits most type of men and specific outcomes.
Are you looking for a wife? Or maybe you want to meet and date Thai girls for a girlfriend experience… Or have the ultimate sex holiday in Thailand
No worries, I got you covered.
***
Contents
Click a link to skip to that section. Don't skip any sections!
***
Thai Girls – 8 Things You Should Know
Things to Know before meeting and dating Thai Girls
Type of Thai Girls
An overview of the different type of girls in Thailand
Best Places To Meet Sexy Thai Girls
Do you want sex, a girlfriend or a wife, I'm going to show you where to find just that.
–
Thai Girls – 8 Things You Should Know
1 ~ Thai girls know how to be sexy
While traveling around Thailand, you'll meet a variety of local girls from low society to wealthy women.
They dress differently, act in their way and even eat different food, but one thing is common among Thai girls – they know how to be sexy.
If you are into some fantasy, you can dress them and play as you are please without being refused.
They'll do anything to please you. Just buy some serious lingerie and you are ready to have some good foreplay.
2 ~ Thai girls need lot of care
This is important to you if planning to marry a Thai girl because it might cause conflict and miss understanding.
Most Thai girls are dependent on their husband for most things, not only financially, but they get the pleasure to do things together with you.
You'll be required to put in a lot of your own time to spend with your girl in Thailand. Otherwise, she will feel lonely and for Thais, loneliness is equal to a death sentence.
Consider budgeting some money forward the family too, whenever some member of the family is in need of financial support.
3 ~ Politeness above all
Thai culture is polite and show aggression can be counterproductive. It is considered a display of ignorance and lack of courtesy to display your emotion in public.
Your girlfriend might feel embarrassed if you scream in a public place, and she will not express her feelings because she thinks that you know these basic social Thai rules.
4 ~ Thai girls in their twenties can be virgin
Now a day might sound impossible a woman is a virgin in her twenties, but in Thailand, there are girls keeping their virginity for the man who will marry them.
If you are looking to date a Thai virgin, you will be able to meet one most probably in the countryside where traditions are still strong.
She is going to date you only together with her sister or close friend, to make sure you don't take advantage of her.
So, don't freak out if a Thai girl will show up with her friends, it is custom, and that is a clear indication that she is a good girl.
5 ~ Strong Thai values
Thailand is never been colonize by a foreign country, beside a short period during WW2.
The fact that the western countries have never colonized Thailand proves that Thai people have a strong sense of culture and identity that reaches down to all levels of society.
It is difficult for the majority of Thai girls to act opposite to their tradition which has been ingrained in their mindset since a very early age.
You will need to adapt to their culture because they will never adjust to yours.
So, it's important to keep a flexible mindset if you plan to marry a Thai woman, and remember that you are going to marry the whole family.
6 ~ Communication and understanding
Communication is key to any successful relationship, and girls in Thailand are difficult to communicate with even if you speak Thai.
Thais aren't specific in their communications, leaving a lot of space for errors and misunderstanding.
Just ask for a direction and you will be given a general answer to "your destination is over there" or "just go straight." Don't expect any detail.
In my opinion, this is the reason Thailand is still a third world country, because of their lack of details while performing a task, planning and setting goals in life.
You might get confused time to time and can be frustrating not be able to plan simple things with your loved one, even to meet at a particular time in an accessible location.
7 ~ Thai girls are caring
A Thai girl knows how to take care of a man by pampering any of your needs. That's why they are excellent marriage material.
Get ready to see your Thai partner to cook every day healthy food while serving you with a big smile. And then… get her pancakes as dessert.
8 ~ Don't use condoms
Rarely any Thai girl has asked me to use a condom. Giving a percentage would be around 5%.
For them using a condom is a detachment of love, and it's associated with prostitution or lack of trust in your partner.
Unfortunately, Thai people are promiscuous, so there chances to get diseases are real.
Play safe, wear a condom with your dates, and if you are ready to commit, both of you can take a quick test called "pre-marital test" to ensure you are both clean.
RELATED: 3 Best Dating Sites To Meet Thai Girls Online
–
Type Of Thai Girls
I'm going to explain 6 of the most common Thai girl's profiles.
Thai girls come in a variety of forms, from the "innocent" university girl to the party gal.
It's important to learn about each girl's profile so you can adapt your approach while knowing if she is worth your time.
~ The Newbie in the city ~
These girls may not only be new to date foreign men, but they are possibly new to sex tourist places like Pattaya and Phuket.
They are from some village or provincial capital looking for a better future.
Most often they are found in shops or hostess bars because friends call them down from the countryside to work and earn some money so they can support their family.
Usually, they can't speak any English, and they will be very shy. The positive side is the inexperience of life makes them cute, naive and love caring.
Getting one of these girls for a long term relationship can be rewarding because you'll be able to shape their personality to suit yours.
Do you love to have breakfast every morning while being served by your new girlfriend in sexy attire? Just show her how to do it and expect the same service every day.
The perfect match for; men looking for a long relationship or even marriage.
Where? They usually work in basic jobs like restaurant, shop attendant in malls, study university.
~ Taking all the punters ~
This type is hardcore and maximizes her time to get the most out of the day in term of dollars.
They will sometimes approach potential customers in their venue and maximize their earnings by sheer volume.
Charming talkers, young girls, and beautiful girls can find two, three or more customers in a night by going with them for a short time, then returning to the working bar.
They may even head to another spot to look for their next customer if you have freed them for the evening by paying their bar fine.
Girls who are not well endowed with ways to attract guys may sit around all night, hoping for several customers but finding none.
The perfect match for; men looking to have a blast of sex holiday with a young and playful lady.
You are into kinky stuff, love to have a super hot woman near you and you are all about "play the game", so no hard feelings.
Where? You can meet this type of girls in high-end clubs in Bangkok, in the best gogo bars in Pattaya and Thailand dating site.
You might spot them in malls and shopping center, but it is difficult to separate from the Hi-So local girls.
~ Waiting for the big score ~
These girls are looking for relatively few customers who can afford to pay more.
Usually, they are beautiful and young in age, and they know the market for them to offer more.
Often very well dressed, graceful, and in high heels in the evenings, they can be found in a variety of places including hostess bars, freelancer hangouts, and discos.
They are good with make-up, have better than average taste in clothes, and have cultivated the poise to pull them off.
Big score girls are usually quite pleasant, friendly and more often than not they are on their own.
When they find their "big score", they don't want competition around in the form of an attractive girlfriend looking for the same thing.
Ultimately, such attractive girls are looking for a Western husband with a steady income.
Assuming they have what has mentioned above, they will often be successful and leave the nightlife scene in Thailand.
The perfect match for; men who are looking for a dream and want to go broke.
At first, everything seems magical: having a beautiful woman, a lot of sex and quality performance.
After she locks you in, she will suck you dry, and all her bad habits will surface.
A few of everyday habits are: drinking, smoking, bang other dudes, gambling, shopping like a maniac and eat your brain day in and out.
Where? You can meet this type of girls in high-end clubs in Bangkok, in the best gogo bars in Pattaya and Thailand dating site.
"Hey, Rocco, why did you copy the "taking all the punter woman" profile?"
Because they are the same, just in a different age bracket and with a different goal. From making as much money as possible to let's get secured for the long term.
~ The Party Gal ~
These girls genuinely like partying and is akin to the party girls who work all week and party all weekend in the west.
Think of them like promiscuous party girls at discos back home who go out to pick up guys for a nightstand, but with a few significant differences.
She may or may not have a day job, and she may just go with men to finance the cost of partying.
These freelancers are great fun and might take a few hours before getting them back to the room.
The perfect match for; young men who are looking for sexy girls who love to party.
If you are a young, outgoing person with confidence in picking up girls regularly, you will find this type of Thai girl will fit you.
Where? Nightclubs and night venues that usually keep open till late at night and offer promotions focus in attracting party girls.
Just a few of the promo; special discount lady card, prizes for the sexiest girl of the night, regular superstar appearance.
~ Pretender ~
This type of girls are the worst that you can meet out there.
Why? Because they pretend to be the real deal, saying things like: "I will give you the best BJ of your life" or "I do anything" but when is time to perform, they are real starfish.
Not only they will not perform in bed, but they will try to upsell you and waste your time.
The perfect match for; no one.
Where? Usually, they are working in low-class establishments, and they are desperate to get some cash to make a living.
~ Addicted ~
These type of girls are addicted to sex… The more the better.
Some of them use drugs to keep going.
It's either a social, recreational habit or something to "take the edge off" or else it is a way for her to stay awake all night and get banged.
Some girls, on some occasions, can be a bit unpredictable and crazy for obvious reasons.
They will ask you to fuck them in the ass while they play with their pussy or get a vibrator so she can get more orgasms.
The perfect match for; men who required a lot of sex and enjoy spending most of the day in the bedroom.
Where? In places like the bars in Soi 6 in Pattaya
Where? Best Places To Meet Sexy Thai Girls
Now that you have an idea about Thai girls, the next natural step is to look for them in the appropriate places.
Let's take a wider geographical area before going into specific places:
Each location in Thailand is offering different types of girls, experiences, and pleasures:
• Pattaya is the destination if you are looking for lust, sex and freelancer prostitutes willing to do anything for you.
You might have eared about Walking Street before, the mother of all the red light districts in the world.
There isn't anything like this street where you can meet hot Thai girls and get laid as much as you want for a modest price.
• Bangkok is the capital of Thailand known as the "city of angels". This city is massive offering one of the best nightlife for singles in Asia.
For men who appreciate living life in style with the hottest Thai girls, fine dining restaurants or having a private sexual treatment in the numerous soapy massage in Bangkok.
If you are on the budget, there is a whole area for backpackers where you can hook up with Thai girls as well as Western women.
• Phuket is a beautiful island with the best beaches in Thailand.
This location is known to be home of the infamous moon parties hold once per month where thousands of people gather together to drink, smoke and party like animals.
There are beautiful resort hotels with top notch restaurants offering the best of Thai hospitality.
The nightlife is vibrant with gogo bars, nightclubs and beer bars, especially down to Bangla road.
Phuket girls prices are on the high side comparing to other less touristic destination in Thailand.

Meet Thai Girls Online
The simplest way to get in touch with attractive Thai girls even before you set a foot in the country.
If you are following this blog for some time, you know I'm a strong believer that preparation is king for a successful sex holiday.
I never travel without a plan on how to meet hot girls. For me, time is money, and because I've 24 hours per day, I want to get the most out of my holidays.
Over the years, I have created a powerful technique in dating Thai girls online which allow me to get laid at the first date.
No more blind dating or many dinners before even get a kiss.
I even get the girls to meet me at the airport… Or get to sleep in their place for a few days instead of paying for a hotel's room.
Learn How to Date Asian Girls Online with my proven technique in simple steps, you will be surprised by the staggering number of girls you will meet even if you aren't tall, fit or wealthy.
– Thai Friendly – Popular dating site in Thailand with plenty of Thai girls interested to meet a foreign man.
This site does a good job of keeping their users in check, trying to remove scammers and fake accounts.
I've done a personal review on How to Easily Meet Thai Girls With Thai Friendly after years of using this tool to date local Thai girls.
Meet Thai Girls in Real Life
Online dating is a great tool to prepare for your trip while doing some homework.
Now, you should have already a few dates line up for your next trip if you have followed my instructions.
Once reach a destination, there is more you can do to get some extraordinary adventures.
There are girls available everywhere such as malls, streets, restaurants, and why not, even the flight attendant on your plane.
RELATED: How To Meet Good Girls In Thailand Even When You Are An Introvert
University Campus
"Offer your phone number"
If you are a traveler like me, you want to meet university girls. This approach works well, but it is time-consuming, so you should have at least a two weeks vacation to make it work.
Search in Google= university+destination(Bangkok, Chang Mai, etc).
Get your ass there before lunch hours (12 am) and walk around or inside the campus looking for a coffee shop or restaurant where the students are.
How to approach university girls
Have lunch or a coffee near the campus. You will be surrounded by cute university girls that will look at you, wondering what a foreigner is doing there.
Be discrete, but smile to the cute one that seems curious about you. You will not be able to have a lengthy conversation or even sit down with her because her friends are all around, and she will feel embarrassed.
So, the best way to move is to ask her for some general information that she will be happy to help you with, thanks to her by shaking her hand and pass the piece of paper with your phone number saying "'d be good to meet you again."
Move on and wait for her text message. That's it.
By the next day, I get a phone call from half of the girls I approach in this way, so you have a 50% chance. Make sure to approach a few girls around the campus, at least 6 so you will have enough girls for the weekend.
The Mall
This is super easy compare to the university campus approach. You will have mainly two type of girls in the mall;
The working girls which can be approached by asking products related questions and usually you will meet after work.
The shopping girls which are all around you and can be stopped, spend some time together in a coffee shop to know each other better and go to your hotel room.
How to approach working girls
While walking around, if you see a cute girl working at the store, just get nearby her pretending to look at some merchandise.
Ask for help, and don't forget to smile.
Be friendly and funny during your conversation. Involve her during the approach by asking what she thinks about the color of the T-shirt, or if the jeans suit you. Imagine she is your girlfriend already.
After some minutes of conversation, just tell her that she is cute and would be fun to meet after work.
Take the lead and ask for some simple questions by creating a funnel tunnel to close your first date.
What time do you finish work?
I come to pick you up, where should we meet?
You will notice my questions don't give much choice to the girl other than meet me after work. I make sure to pick her up after work, making her life easier and showing my genuine interest forward her.
Where do you think you should go after picking her up?
Restaurant, coffee shop or your hotel room?
The answer is obvious, so make sure to have some snack and drinks in your hotel room (she will feel thirsty and hungry), don't forget the romantic movie and condoms.
How to approach the shopping girls
Here you want to close the deal as fast as possible; now.
The Thai girls strolling around the mall have nothing to do which is the reason they are there in the first place.
The approach should be creative and isn't standard for all the type of girls, so you need to try a different variable.
Make sure to approach the girl frontally because can be intimidating if you approach from the back or side.
Variable #1; "Hi, I'm new in town and feel hungry, what restaurant has good food?" BLA BLA BLA. "Do you join me, would be nice to know you."
Variable #2; "Hi, you look super cute, do you know that? BLA BLA BLA. "Let's have a conversation while drinking some coffee. You pick the place."
Now, I could write a book about the variable but what you will have noticed is that I engage the woman with a question, and it is an open question.
Not all the girls will take your offer, but don't let yourself down because you are playing a number game.
In average every five girls, one will accept your offer. I can chat up five girls in 30 minutes, and walk away with the prize.
Your enemy isn't the girls refusing your invitation but the time. There will always be more girls, but your time is limited.
Ok, now you are having a good time having a coffee with this sexy Thai girl, so what's next?
Of course, you need to click the chemistry between the two of you and conversation is an important factor to make her feel confident about you. You can read talking tips in coffee shop to keep the conversation going.
Stop talking, now is time to seal the deal.
Take out your phone, read a text message and say "ho no, my phone is low on battery and I'm waiting for an important call."
Look at the girl and say; "Do you have a charger for my phone?"
She will feel sorry that she can't help you.
Here the deal; "Let's get the phone charged and after let's go to watch a movie."
Pay the bill and take her with you to your hotel room. Of course, you will only charge your phone and creampie that little Thai pussy.
Disco/Clubs/Bars
"Party and Sex"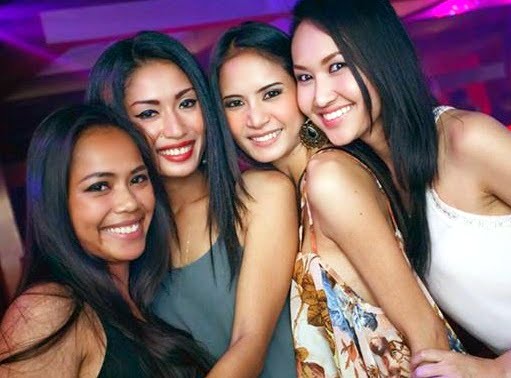 You will find Thailand nightlife to be exciting and an excellent opportunity to meet beautiful Thai girls.
Any guy can pick up girls in Bangkok, you don't need to be rich, tall and handsome but being a foreigner, you have a great advantage looking exotic to the girls.
These venues are frequented mostly by hookers and freelancers, so you will have a small chance to meet an honest and hardworking girl.
Prostitutes are easy to spot. They are the only girls who stand glued to the spot desperately looking for customers.
I have enjoyed meeting and banged some good girl as many hookers. I love sexy girls and I'm a player, so I don't mind what she is after as far I get my night of lust.
These places suit the travelers that want to party, drink, dance and have fun.
How to approach Thai girls in the clubs and bars
In the clubs, it isn't much different than approaching a girl in your home country. Girls go out with friends to have fun and meet new people. If you are outgoing and socially intelligent, you will meet many hot girls in Bangkok's clubs.
When in a beer bar or bikini bar, there isn't much of art in approaching girls. Just call her over, offer a lady drink and get on with your conversation. If you like her, pay the bar fine and take her to your hotel room for some real sex.
You can learn more about approaching women in clubs with Joshua.
Joshua has created a fantastic program with a video tutorial to help you in approaching women and get laid immediately.
I've gone throughout his course and apply Joshua's technique in real life with excellent results. Joshua understands the women's physiology and knows the "how" to spot a lady who is ready to make out.
I know it sounds kind of crazy at first, but it's true. If you walk into a bar or club and go up to any woman without knowing what signs to look for, your odds of success go WAY down.
You must know how to spot that woman who's already in this "make-out ready" state, so you can walk up and be "that guy."
By putting this technique into practice, You want to discover how to see the women who you're able to make out within 40 seconds or less in the first place.
This is the reason why I love Asia; beautiful women ready to get laid the same night. No more drama or hoping to have sex with a woman.
What To Expect In Dating Thai Girls
Chris from LivingThai had dated hundreds of Thai girls and offer an excellent inside about how things might go for you on a first date with a Thai Girl.
Chris is living the Thailand dream, living mostly in Chiang Mai and Bangkok where he is famous (or should I say infamous) in partying hard and banged local girls.
In his first date list with Thai girls, Chris mention girls will usually buy the most expensive food and hardly eat anything.
Happen to me most of the time when I take girls in European restaurant because the girls have no idea about any other foods than Thais, so they buy the most expensive dish thinking must be delicious, but when presented with a beef steak with Foie Gras, no way she is going to eat.
Chris has done an excellent job in listing issues you'll encounter in dating Thai girls, so you can be prepared to understand a different culture.
At first will feel weird dating Thai girls, but over time, you will get used to.
RELATED ARTICLES