6 Best Subic Bay Girlie Bars
Are You Looking For The Best Subic Bay Girlie Bars?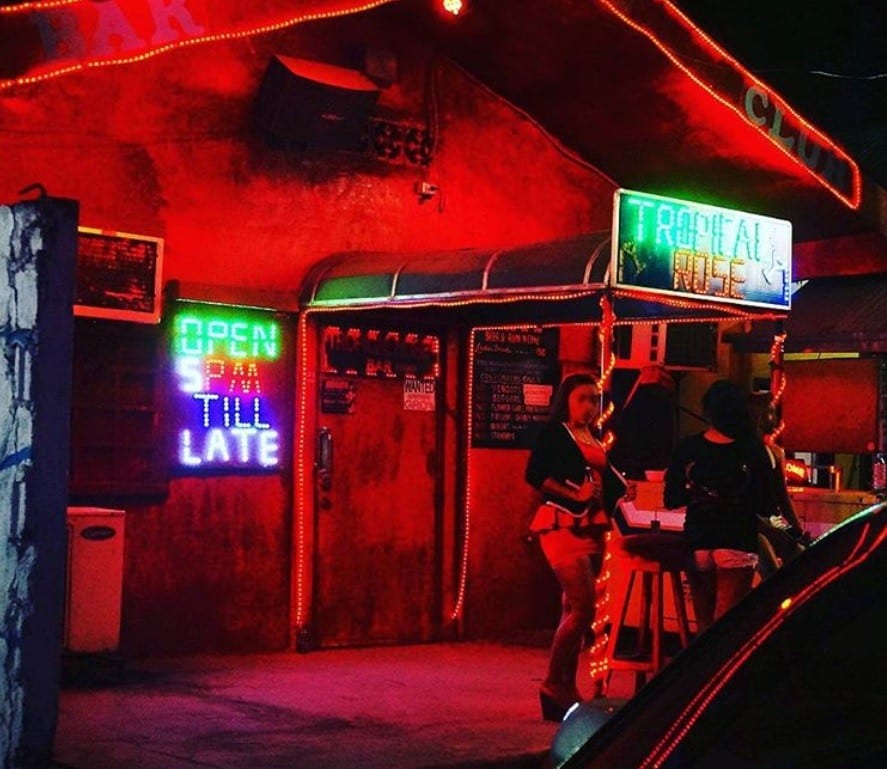 Then Visit Barrio Barretto Bars…
Subic Bay city doesn't have girlie bars, but the near Barrio Barretto beach town has a street home of about 20 girlie bars where you can get cheap booze and sexy Flipino girls.
Most tourists visit the bars in Angeles City, totally dismissing Subic Bay nightlife.
That's a shame because Subic Bay bars are fun, the girls are HOT and everything is cheaper.
For example, to bar fine a girl all night in Angeles City cost about 3.000 Pesos, whereas in Subic Bay is only 2.000 Pesos.
That is 33% less or get 3 girls at the price of 2. (On the bottom of this article, I go into details about Subic Bay bar girl prices)
Of course, Angeles city has many more bars and even a Casino but the atmosphere is more business-oriented where Subic Bay girls are friendly and easy going.
Most girlie bars are located in Barrio Barretto on a beach road called Olongapo-Bugallon, which make it easy to walk it up and down.
Most bars open and close over the years but the best ones are operating for a very long time.
So, today I'm going to review the best bars in Barrio Barretto – Subic Bay so you can get down to business with the girls without wasting time and money in the wrong places.
Best Barrio Barretto 
Let's start with…
1. Lollipop Bar
This is the biggest bar in Subic Bay and most probably the best considering the quantity and quality of girls.
As you walk in, you get welcomed by numerous girls and get sit down for a drink.
Lollipop bar girls are young, sexy and know how to please. So, you can't go wrong by taking one with you for the night.
However, keep in mind that sometimes a young Filipina can be a flake even if she works in a reputable establishment like Lollipop bar.
The reason is not that she doesn't like you but because she is inexperienced and shy. So, be gentle and don't hurry up things.
In this case, I would recommend to rent her for a few days as those young girls offer unforgettable girlfriend experiences.
One more thing; During week days and low season there are only a handful of girls dancing but in high season there are more than 20 girls in the bar.
If you would like to learn more about low/and high season and other important info, check out the Subic Bay Travel Guide For Single Men.
What I like most about Lollipop bar is the friendly attitude of the girls besides their sexy bodies and cute faces.
There is a pool table by the stage where you can play for free while chatting up the girls. It would not hurt to buy them a drink to get the party going.
The price for soft drinks and beers is about 100 Pesos, for spirits around 140 Pesos and lady drinks at 200 Pesos. Bar fine which is all-inclusive is 2.000 Pesos.
Those prices apply to the other bars in Barrio Barretto like…
2. Hot Zone Bar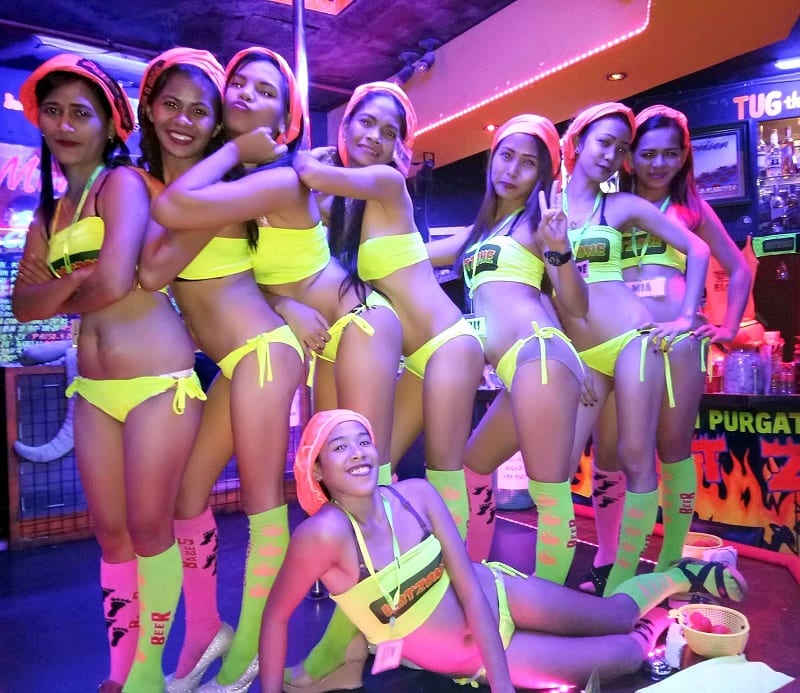 Every time I visit the bars in Barrio Barretto, I must stop in Hot Zone Bar.
Why?
Because this little bar is FUN!
The girls are in their late 20s, so not the sexiest in town but they make it up in naughtiness.
In fact, you can sit down on the dance floor's perimeter where the girls will happily smack their asses in your face.
And you can imagine after a few rounds of lady drinks, the atmosphere gets HOT.
All in all, If you're a naughty dude like me, you're going enjoying your time in Hot Zone Bar.
Ha! Be careful to the snake when it's show time…
3. The Office Bar
Office Bar is been around for a while, the reason is the young and attractive girls working there.
The mamasang there is working hard in recruiting the best Filipinas in the region while ensuring the satisfaction of the customers.
That's for me is a win-win situation where the customers are happy because they get looked after by cute girls and the girls are happy because they get a lot of customers.
I recommend getting dress up nicely if you want to impress the young spinners working in the Office Bar or you might get refused their attention.
When I visit the last time, I've counted 18 girls in the bar with a two-set rotation of 5 girls on the stage. In the weekend there are more girls than during the week.
Ask mamasang (the girl manager) to assist you to choose a girl, she is very helpful and knows what the girls are like behind closed doors.
The office bar open at 5 pm, but the hot girls walk in around 7 pm. So, the best time to bar fine is between 7-9 pm.
4. Tropical Rose Bar
Another FUN bar in Subic Bay where the girls aren't as hot as the previous bars in this list but definitely they know how to give you a good time.
If you've been in Olongapo-Bugallon road a few years back, this bar used to be called Rosie's Tavern.
I recommend visiting the place between 7-9 pm, which is when all the girls are in the bar and during happy hours.
The party mood is usually in full swing starting from 11 pm until late.
5. Crazy Horse Bar
If you're into milf and love to party hard, then Crazy Horse bar is your new home. Whenever I visit this bar, I enjoy myself playing around with the girls and the mamasang.
Yes, mama is loud and fun too.
Also, they don't push for drinks and the atmosphere is going. For happy hour, walk in between 5 pm to 8 pm.
The best part is the music being reasonable which let you've got an actual conversation with people.
The interesting thing is that you can't boyfriend the waitresses in Crazy Horse bar but only the dancers, which is unusual in Subic Bay.
However, in this way you get a better service because the waitresses don't get lost playing around with customers.
6. Cheap Charlie
This bar is open all day offering girls, cheap drinks and food.
One of the favorite hangout for expatriate and tourist in town. Famous for cheap beer, only 35 Pesos and all day breakfast for 99 Pesos. Burger and fries 175 Pesos.
The downside is there isn't air con and no wifi, also the girls pester you for drinks.
However, the view is fantastic and everyone is friendly 🙂
The place is divided into two areas: the pole bar on the basement and rooftop bar on the third floor.
On the basement you have two girls per time dancing but isn't as sexy as other bars in the area. However, the rooftop is awesome because of the fantastic view and the charming girls there.
It's a good place to spend the afternoon drinking, playing games with the girls and have some snack food.
Subic Bay Bar Girl Prices
If you're wondering what is going to cost you a bar girl in Subic Bay, these are the standard prices:
Lady Drinks 200-220 Pesos;
Bar Fine that is all-inclusive is 2.000 Pesos for all night;
Tips for the lady if she gives you a good experience is 500-1.000 Pesos.
That is what you need to know about prices for Subic Bay bar girls.
How Girlie Bars Works In Subic Bay
If it's your first time in the Philippines, you might not know how things work in a girlie bar.
Basically, you walk into a bar, sit down and order your drink. You check out the girls in there, and if anything of your taste, you can invite her to have a drink with you.
When you feel she is the right girl for you, just pay the bar fine to the bar which includes sex for all night and one shot.
The standard price in Subic Bay is 2.000 Pesos.
However, if she gives a good service, 500 Pesos tip is a good act from you.
That's all, I wish you a great time in Subic Bay.
RELATED ARTICLES